By ABDULWAHAB ABDULAH
LAGOS — IT is not yet uhuru for Major Hamza Al-Mustapha, former Chief Security Officer, CSO, to late Head of State, General Sani  Abacha, over his acquittal by the appellate court as the  Lagos State Government yesterday  disclosed it has filed an appeal to challenge the court's decision that aquitted the former CSO and Alhaji Lateef Shofolahan over the murder of Alhaja Kudirat Abiola.
And that the state made no error on deportation of Igbos
LASG's action is contained in a statement by the Attorney General and Commissioner for Justice, Mr. Ade Ipaye, while briefing journalists during his ministry's monthly media chat on law and order in the state.
The Attorney General, who refused to disclose the grounds on which the state was challenging the judgment of the Court of Appeal, said the state took the decision after one month of thorough evaluation of the judgment and found out that "there are enough and very good grounds for appeal."
Ipaye said: "Having carefully reviewed the decisions of the respected justices of the Court of Appeal, it is our humble view that there are strong bases for appeal which the Supreme Court of Nigeria should have an opportunity to consider.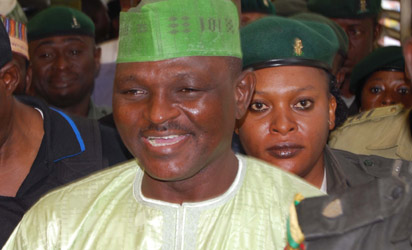 "This step will also ensure that all issues are fully articulated and the victim's family, the defendants and the society are not deprived of the last window of opportunity provided by the constitution for the resolution of the case."
Though, according to him, the notice of appeal filed by the state was yet to be served on the defendants, the processes have been filed before the Court of Appeal, Lagos.
Deportation of Igbos
Earlier, Ipaye, who had also spoken on the controversies that trailed the relocation of some Igbo indigenes from Lagos,  dismissed the argument that the state acted against the law. He said the decision to transport the affected persons to their home state was based on their request after due consultation with their state of origin.
He said: "A lot has been said about this, and has fueled a lot of speculations and is drawing bad blood. But this is a simple routine matter which has been happening to people all over the country, be it Yoruba, Igbo or Hausa, who have no social support living in the state. So, they requested that the government should assist them in going back home  where they can find their families and get people to reunite with.
"We have said it that we wrote to the government in question that it should come to the assistance of the people. Since we couldn't get their response, we worked with these individuals to get them back home. It was really a primary matter of assisting the people involved.  It was not a punitive measure or that anyone has no right to come to Lagos State."