By NDAHI MARAMA, Maiduguri
The residents of Gomari and Bulunkutu wards of Maiduguri metropolis in Borno state are gripped with fear as members of Borno Vigilance Youths Group (BVYG) and the military Joint Task Force (JTF) Thursday, arrested a Boko Haram female terror suspect, along with a 35-year old man, suspected to be an informant to the Islamist sect that engages women in the smuggling and carrying of rifles and ammunition to launch attacks.
Our Correspondent as told that 'the fear of women is the beginning of wisdom', as the security agencies and the vigilante group are showing more concern and putting more operation stop- and- search pressure on women than their male counterparts following series of arrest and discoveries that many women  arrested were in possession of firearms in the State.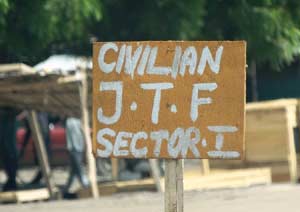 According to JTF sources yesterday in Maiduguri, the vigilante group has already arrested five female Boko Haram terror suspects with rifles and 254 rounds of ammunitions in three wards of the metropolis before the arresting another woman and a man during their routine "stop and search" operation.
Also a reliable security source said, "residents of Maiduguri and Jere Metropolis are being warned to be careful with women whom they associate with, as an intelligent report have it that some female Boko Haram suspects have intensified plans to break/sneak into households and put deadly poisonous substance into their food items".
The source added that this is a new tactics being adopted by the sect members, as some of the method they were using in the fight against security agencies and the government in the past failed to yield positive results for the group.
Ibrahim Isa, a vigilance youth of Gomari told our Correspondent yesterday that the arrested female Boko Haram terror suspect sneaked into Ajelari ward area along with 11 other girls to poison water points and underground water reservoirs of residents in Bulunkutu and Gomari wards of Maiduguri.
He however said: "we were able to arrest this woman with a rifle and ammunition, hidden under her flowing veil in a tricycle. The 35-year old man was also arrested in Bulunkutu ward, and based on the identities of this man, our boys were also able to confirm that the man did not carry any rifle but sneaked into this area to collect information on our activities and the JTF in Maiduguri.
"The other 11 girls, armed with poison and powdered substance to adulterate and poison water points and underground water reservours are on the run. But we will get them as we intensify our searches and massive hunt for fleeing Boko Haram sect members in Maiduguri."
Speaking on the use of women in terror activities, Chairman of BVYG, Abubakar Mallum said that women, particularly with their babies strapped on their backs, could easily smuggle arms and ammunition without being detected at the check points in Maiduguri metropolis.
He said this was why "our boys are continuing with their "stop and search" operations in every ward and community of Maiduguri metropolis until all the sect members are rooted out and handed over to JTF for investigation and prosecution, adding that, "the Boko Haram sect members have killed many of our parents, guardians, brothers and sisters, including children and women which the sect leader, Abubakar Shekau said they never killed while targeting civilian and military formations in this state."
Confirming the incident yesterday in Maiduguri, the JTF spokesman, Lt. Col Sagir Musa said that terrorists do not rely on one style of attacks and killings, as the Boko Haram sect has commenced employing women to smuggle more arms and ammunition for terror activities in Borno state.
He said some women were arrested by the vigilante youths in three wards this week, while arms and poison were also recovered from the female terror suspects.
Musa further disclosed that: "because terrorists are increasingly becoming innovative, adoptive, and ruthless in pursuing their goals, the youths should continue with their massive manhunt for the fleeing Boko Haram sect members that are still hiding under the guise of nursing mothers and housewives in Maiduguri metropolis."
Subscribe for latest Videos