PRESIDENT Goodluck Jonathan, yesterday, in Lagos, led other eminent Nigerians to pay their last respects to Pa Ademola Fashola, father of Governor Babatunde Fashola of Lagos State.
Pa Fashola, who died at his residence, in the early hours of last Monday, after a brief illness, was buried at about 3.45p.m. at the conclusion of 'dust to dust' rite by his children, dressed in white flowing traditional attires.
The body was earlier laid-in- state at his No. 31, Oladipo Olabinjo Street, Off Bode Thomas, Surulere.
Alhaji Garuba Akinola, Chief Imam of Lagos State led the prayers at the Lagos Central Mosque at about 2.45p.m. and the burial at Vaults and Gardens Cemetery, Ikoyi, Lagos Island stared at about 3.45p.m.
Six pall-bearers from MIC morticians (undertakers) brought the corpse in a brownish raffia casket (typical of Muslim coffin) into the luxurious cemetery.
See more photos here
Roll-call
Also in attendance were Chairman of the Nigerian Governors' Forum, NGF and Governor of Rivers State,  Chibuike Rotimi Amaechi; Governor Kayode Fayemi and Governor Ibikunle Amosun of Ekiti and Ogun states, Minister of Sports, Bolaji Abdullahi, who represented President Jonathan; President of Dangote Group of Companies, Alhaji Aliko Dangote; former governor of Cross River, Donald Duke; Justice George Oguntade (rtd), Sam Amuka-Pemu, Publisher,  Vanguard Newspapers and General Manager Publications, Vanguard Newspapers, Mr. Gbenga Adefaye.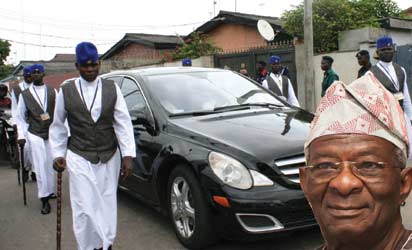 Others were Mr. Ricky Tarfa, SAN; Senator Biyi Durojaiye, Ernest Shonekan, former head of Interim National Government; Akin Disu, chairman Eagle Paint; former National coach, Tunde Disu; Alhaji Musibau Alebiosu,  Tunde Folawiyo, Alhaji Rasak Okoya, Senator Gbenga Ashafa, Senator Babatunde Ojodu; Speaker, Lagos State House of Assembly, Adeyemi Ikuforiji and Justice Fatai Adeyinka.
Chairman, Lagos State Independent Electoral Commission LASIEC, Wale Edun; former Lagos State Commissioner for Finance, members of the  State Executive Council, members of the State House of Assembly and All Progressives Congress Party, APC, stalwarts were equally in attendance.
Fashola speaks
Speaking after the interment, Governor Fashola, in a solemn voice, described his late father as a father of all as he did not discriminate among different shades of people he came across.
According to him: "I think for all of us, I like to say 'thank you' very much to everybody who has rallied round from yesterday (Monday) morning before I returned from Saudi Arabia; the pouring of love from all Nigerians, from Mr. President who called persistently until he got through to me. He sent his representative today (yesterday0, the Minister of Sports and my brother governors, the imams, the ordinary men and women and everybody. Thank you very much.
"This is a painful way for us and for you to show how much you love us, but we really appreciate you. Our gratitude is deep and immense and we can never fully express it.
"As for my father, I think for all of us his children, he was first and foremost our friend, he was our best friend, so that is what we will miss really.
"Our father was a very loving friend, who allowed us to be the best that we could. He allowed us to be what we wanted to be, guiding and nudging, but never discriminated and that's why he had children that are Christians, Muslims; children who are Europeans, children who are married across Nigeria.
"I think these have fully captured his life. I doubt if there is any person who did not have enemies, it must be my father because he just got on with life.
"He didn't discriminate in any position he found himself, good, comfortable, painful, he just moved on.
"I learnt so many things from him and most of these things shaped my life today.  I try to be and I hope that I can be as rounded in integrity, humble in his attitude to life and fully committed in all situations as he was. He died in the month of Ramadan, he died on the night of majesty.
"We had just finished 'Lailatul Quadri' prayers in Mecca, and for me, God is great because if God gave him the opportunity to choose how he would go, and when, he could not have chosen the day he went.
"It was such a great time. We thank God."