BY JIMOH BABATUNDE
The ancient city of Ile Ife will be agog Monday as the three day celebration of Oranmiyan, arguably the most deified of the whole Yoruba deities, begins.
Oranmiyan is the only Yoruba King that was confirmed to have established other towns, like Oyo and Benin, became their King and later returned to his abode and also became a King before his eventual transformation as denoted in the Oranmiyan Cenotaph.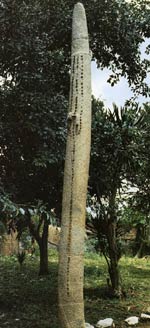 The Oranmiyan Cenotaph is a renowned tourist centre that has drawn million of visitors to Ile-Ife and has continued to do same. Oranmiyan is a religion to many in Yoruba land as it is being worshiped while they visit the Cenotaph to pay homage and reverence to the deity.
Speaking ahead of the celebration, Oba  Abimbola Akinyele, the Olu of  Famia Ife said the celebration is to set the record straight as some people are claiming Oranmiyan as theirs.
Oranmiyan was one of the seven sons of Okanbi, the only child of Oduduwa, the progenitor of the Yoruba.
The legend, Oranmiyan, despite being the grandson of Oduduwa was the pioneer Alaafin of Oyo. He was famed as a strong enigmatic leader who led his people into a path of greatness that lasted several centuries, leaving a heritage that lasts till today.
After establishing Oyo, he left and conquered the Benin people and again founded the Benin Kingdom. After several wars and conquests, Oranmiyan returned to Ife, the cradle of the Yoruba and was the 4th Ooni of Ife.
The festival which has received the approval of the Ooni of Ife, Alaiyeluwa Oba Okunade Sijuwade, will bring all Ife indigenes and the entire Yoruba at home and in diaspora like Brazil, Trinidad and Tobago, Jamaica, Cuba, United States of America together.
Former minister of Agriculture, Engineer Basheer Awoterebo, at a press conference in Ile Ife weekend said different program have been lined to enrich the festival.
According to him, the the platform of the festival which will be used to bring to the fore a unique and binding tradition for the Yoruba people, will future a paper presentation with the theme: What is the name?" to be delivered by a renowned professor of history.
He added that there will be quiz competition, traditional  procession, and vacant space for traders to display their wares as well as homage would be pay to the Imperial Majesty Oba Okunade Sijuade.