By PRISCA SAM DURU
THE need to reposition the Nigerian movie industry known as Nollywood for it to be able to promote the nation's cultural diplomacy, was the focus of the 4th Annual Public Lecture organized by the National Institute for Cultural Orientation (NICO).
Themed, "Nollywood As A Medium For the Promotion of Nigeria's Cultural Diplomacy: A Reflection of a Cultural Administrator", held last week at the Nigerian Institute of International Affairs (NIIA), Lagos.
Ranked second largest film producing nation all over the world and best in the continent, although Nollywood is at the moment, enjoying a lot of encomiums from around the world, a lot still has to be done in terms of quality of works produced.
And in his detailed lecture, the guest speaker, Dean, Faculty of Arts, University of Ilorin, Prof. Ayo Akinwale who has been both an observer and participant in the Nigerian Film Industry, critically examined the role of Nollywood in the promotion of the nation's cultural diplomacy to the outside world. He began by first, tracing the metamorphosis the industry has undergone from Television drama to Home Video.
Beginning with "Living In Bondage" by Nek Videos, the Don noted that the transition was not a hitch free one due to poor budget and hijack of the industry by marketers which have been the bane of the industry.
Prof Akinwale disclosed that during production, a lot of details are forgotten and most times, professionals are not involved, resulting in bad grammar, culture is left out where necessary, repetition of scenes and location representing different stories, are noticed, etc.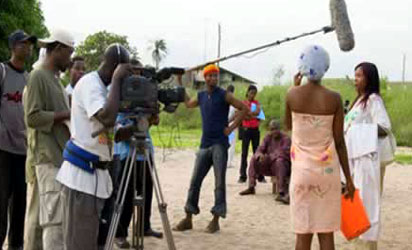 Although he commended practitioners especially veterans who have made remarkable impact which has placed Nigeria in the enviable position it is occupying presently in terms of Movie making, such as Richard Mofe Damijo, Late Justus Esiri, Olu Jacob and his wife, Joke Silva, Kunle Bamtefa, Olumide Bakare, etc, he however lamented that some of the films still lacked basic qualities to be marketed abroad.
" As an observer and participant in the movie industry, I have watched the growth and development of the industry and have discovered in spite of the large quantity of Nigerian films in circulation, very few can be exported while many have nothing to contribute to the nation's cultural development" he Noted, stressing that culture is dynamic but Nigerians are yet to see culture dynamism in Nollywood films.
Prof Akinwale therefore, averred that it is of paramount importance that any film that must be exported, must have qualities to negotiate Nigeria in the perception of other countries.
He further said that a lot of progress has been recorded, with Yoruba film Industry covering more areas than any other part of the country, but regretted that it is yet to make meaningful impact in promoting Nigeria's cultural diplomacy. Yoruba film maker Tunde Kelani was commended for being steadfast and for his efforts so far.
At this juncture, clips from films which do not represent Nigeria's cultural diplomacy and those that do, were shown to the audience.
If Nollywood must perform the task of promoting the nation's cultural diplomacy, Prof Akinwale posited that there is need to correct the existing errors in recent productions, the attitude of putting commerce first before excellence must cease, there must be good training for practitioners and above all, artistes must change their attitude of being involved in more than one production at a time. "There is hope for Nigeria", he concluded
The chairman of the occasion, Deputy Vice Chancellor of the University of Lagos, Prof. Duro Oni, commended the Executive Secretary of NICO, Dr Barclays Anyakoroma and every staff of the organization for commencing the programme on schedule adding that they indeed lived up to what NICO preaches which is cultural orientation.