By MODINAT AMUSAT
THE only thing standing between 14-month-old Temiloluwa Ojebode and a happy healthy life, is N2.5 million to undergo a crucial corrective heart surgery in an Indian hospital.
Disclosing this to Health & Living last week, Temiloluwa's mother, Toyin, explained that she had known no sleep ever since her baby was diagnosed with a hole-in-the-heart.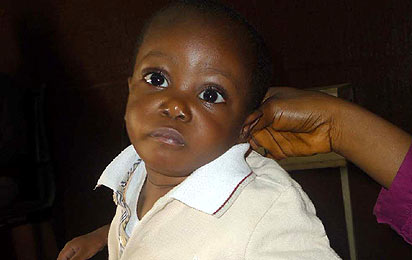 Toyin, a native of Ijada-Ijesha in  Osun State and an an unemployed HND  graduate in Statistics said when he was born on May 31, 2012,  Temiloluwa was perfect in health.
"But after about three  months, I began to notice  his hands, legs and lips were turning blue. This continued for close to one year without improvement." Then, one day, the baby fell asleep and  could not be roused, and she was compelled to take him to Gbagada General Hospital, where the  doctor ordered an x-ray of the chest. "I did the x-ray. and also did an Echo.  In the end, it was discovered that he had a hole in the heart. So we were referred to the Lagos University Teaching Hospital, LUTH."
A medical report signed by Prof. A. Okoromah, a Consultant Paediatrician at LUTH, confirmed the diagnosis of a congenital abnormality described as tetralogy of fallot. The doctor confirmed the baby requires further evaluation and possible open heart surgery to correct the abnormality and forestall irreversible and life-threatening complications.
Subscribe for latest Videos