The Chairman, Delta State Football  League Management Board, Edema Fuludu, (MON), has said that the greatest challenge to  football development is lack of sponsorship, just as he commended grassroot coaches and footballers for their efforts at ensuring that developmental football takes its pride of place in spite of the daunting challenges.
Edema made the observation when he led other members of the Delta State Football League Management Board on a courtesy visit on the Transition Committee Chairman of  Okpe Local Government Area to formally intimate him with the workings of the board and further ask for support and assistance in the area of developmental football.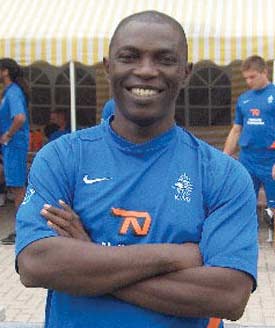 Stressing the importance of grassroot football and how it can help checkmate social vices, he said that football helps in reducing youth restiveness in the state, noting that Delta state has the best organized league in the country that could further boost the economy of the state and instill good morals in the the youths.
Fuludu canvassed for the assistance of the local governments to support the board to develop the players and the game because the clubs are managed by coaches and individuals who don't have the financial capability to take these teams on football matches outside the state.
"The Keshis, Okochas, Orumas, Popos and the Owumis all came from this state, made a mark in Nigerian football and came to limelight through developmental football and if this system is allowed to die, we will not be able to get these young and talented footballers again.
We are as big as Brazil in terms of talents but if we don't develop them, then we cannot sell them the way they sell them in Brazil hence I am making this appeal,".Fuludu said.
In his response, the Transition Committee Chairman, Okpe Local Government Hon. (Chief) James Ojadovwa Augoye, said the Council is a sports loving one and to demonstrate its love for the game of football, the council had already concluded plans to start a football competition for primary schools in the area.