By VICTOR AHIUMA-YOUNG
THE Lagos office of the Nigeria Labour Congress, NLC, Yaba, venue of election of officials of the Federal Civil Servants, Lagos  branch of the Nigeria Union of Pensioners, NUP, last Friday, provided an avenuefor hundreds of pensioners to pour out their frustration and anger over years of unpaid pensions  and other benefits.
Although one Dele Joseph, was elected Chairman of the branch amidst protest, it was the tale of woes  of pensioners that stole the show.
Certainly, Joseph and his new executive have a lot of work to do to ensure that the senior citizens are not only paid their pensions as at when due, but accumulated arrears over the years are paid as well.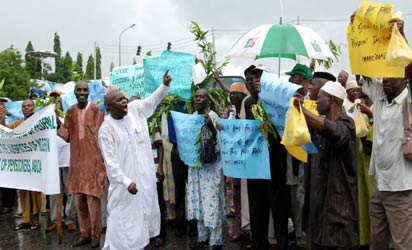 There were heart rendering tales of several pensioners who retired in 1996, 1999, 2000 and so on without receiving a single kobo till date.
Stories were told of pensioners who are now blind, crippled, bedridden, abandoned at homes, hospitals, on the streets and other places without money as their pensions and other benefits are not forthcoming.
Some are even lamenting that death appears to be a better option that life.
Muftau Baruwa, Senior foreman in the Federal Ministry of Works and Housing, who retired since 11 years and three months ago, said he was just a living dead, saying "I served 35 years and received merit award twice by the Federal Government through two different level 14 officers. I joined the service on 19 May, 1967 and I retired May 25, 2002. As we speak, I have not been paid a kobo, both my gratuity and pension. I have  been to the hospital twice since my retirement. During this period, I lost my father, my mother and one of my sons.
Please, use your position to appeal to government to consider me and pay me my entitlements. I think death is better than this suffering. Most times, I will go into the streets to beg for money to feed.  Severally, for two days I will not feed.  Before, I was very fat, now I am very skinny. Please, let government pay me my benefits. If I can get my money now and die a year later, it will be better than this suffering.
It is shameful for a grown up man, not handicapped to be forced into the streets to beg for alms.  Now I am losing my sight and do not have money to go to the hospital."
Mrs Thompson
Imakop, a retiree from the National Bureau of Statistics, retired in 2007, was only paid in 2010, lamenting that before and after 2010, she had not received a dime as pension.
According to her: "Since we were retired, no kobo was paid to me. Everytime, we would be called to come to Awolowo Road, Ikoyi, to fill one form after another. Sometimes, we sleep at Awolowo Road on the bare floor, for us to be attended to. In spite of that, nothing had come out of it.
It was only in 2010 October that I was paid, since then, no payment. My children in school, I can't provide for them. Anytime  they come back, we all starve and they will cry all day till they go back. There is nobody to help me except God, my husband died since 2003.
I do not have anybody to help in anything, not even for my children school fees and upkeep. Please, help us plead with the Federal Government to come to our aid.
They should have mercy on us and pay us our pension. We are not asking for what is not ours. We worked for it. It is our due. I have since exhausted my savings and I am now indebted to so many people.  When my children come from school, I cannot watch them cry themselves to death without doing anything.
I will go out to friends and neighbours to borrow for my children to go back to school. Accommodation has been very difficult. I have done several verification exercises all to no avail.