Abuja – The Federal Government has appointed Jessica Mathews, a U.S.-based Nigerian, who invented energy generating football and skipping rope as an `Entrepreneurship Ambassador'.
The Minister of Trade and Investments, Dr Olusegun Aganga, announced this on Friday after the presentation and demonstration of the invented products to President Goodluck Jonathan at the Presidential Villa.
Aganga said, "Mathews is an inspiration to every Nigerian, especially children, and the product is portrayed as made by a Nigerian for the world.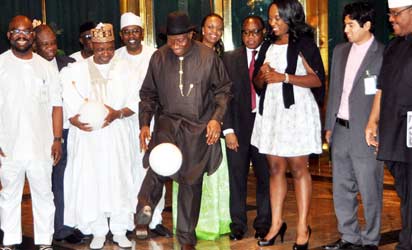 "The product is actually versatile, it is not just about the electricity you see, you can use it to charge your mobile phones and fans so there are so many things for which it can be used.
"We are also looking at the possibilities of manufacturing it in Nigeria and see how we can make it cheaper in this country.
"I am glad that Matthew has also agreed to be our ambassador in terms of promoting entrepreneurship in our universities.
"What we want to do is to bring successful entrepreneurs like Matthew to inspire the students and make them more creative so that they can also be employers of labour,'' the minister said.
Matthew, an Edo-born inventor, who demonstrated the soccer ball, said it could generate three hours of electricity after 30 minutes of play and could store power for 72 hours.
The electricity generated by the ball, according to her, can be used as electricity source to power lighting points and household equipments.
Mathews, 25, and Co-founder of Uncharted play, said the airless football used as electricity power source when not in use, could span for 18-months before replacement.
The inventor, who studied Psychology and Economics in Havard University, U.S., said she taught herself Electrical and Mechanical Engineering because of her interest in the field
She said her motivation to invent the ball and skipping rope came when she attended a wedding in Nigeria and there was a sudden power outage.
"I am a Nigerian and was in Nigeria, it was my Aunt's wedding and we lost power. How many times, is there anyone who has not been affected?
"For me, I was raised to seek a solution when there is a problem. To be as creative as you can and be opened to different ways so you can address the situation,'' she said.
Mathews, who spoke on why she chose to use football, explained: "to me, we all know that football is the most popular thing in the world.
"To most people, football form is the most convenient; any man on the street will be attracted to kicking football.
"So, the idea is to put something that people really love and get more out of it.
"These are the things we can use to see if we can amplify existing behaviour to bridge the gap between what is working and what is not working in this country that we love so much.
"We take our passion for sports that is so beautiful and we say okay, let's give people renewable clean power that they can control.''
She said the innovation, which had been accepted and already in use in the U.S., would be affordable when mass-produced and introduced into the Nigerian market.
"Right now, if we are going to sell it here in Nigeria, it will be equivalent to what you will pay for a solar inverter.
"Right now, we have not started making them here, we are selling them in New York and in New York, we charge people a lot because it is New York,'' she said.
Dr Reuben Abati, the Special Adviser to the President on Media and Publicity, said Jonathan congratulated Mathews on her creativity and innovativeness.
"The president is particularly impressed that Matthew is multi-talented, and that she developed herself in science despite that she is a psychologist and economist.
"It is a proof of the quality of human resource we have in Nigeria and the president is proud of her,'' Abati said.
Abati said the president assured that the invention would be used as a major tool to mobilise young children and encourage them to think more deeply. (NAN)