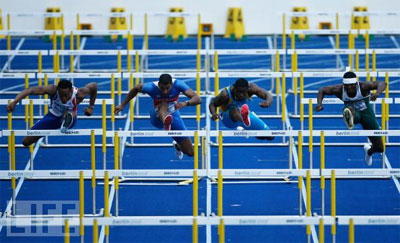 With the 14th edition of the IAAF World Championships in Moscow set to burst out of the blocks on Saturday 10 August for nine days of scintillating competition, the athletes are fine tuning their final preparations for the premier athletics event of the year.
A galaxy of stars are set to descend on the Russian capital, led by the incomparable Usain Bolt, who two years ago at the 2011 edition in Daegu retained his 200m title and landed back-to-back 4x100m titles as part of the Jamaican team.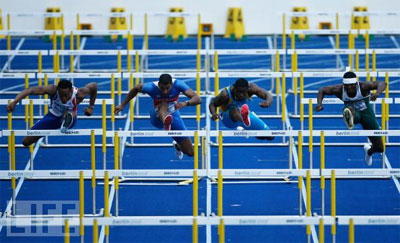 For the latter performance, Bolt – running alongside Nesta Carter, Michael Frater and Yohan Blake –  set a World record of 37.04 and his team was rewarded with an additional World record bonus of US$ 100,000, presented with the support of two of the IAAF's partners: TDK (for the men's events) and Toyota (for the women's events).
Once again, the IAAF is proud to present its World Record Programme at the Moscow World Championships where athletes achieving a World Record will be eligible for a special World Record Award of US$ 100,000 offered by Toyota and TDK.
The performance must be an improvement on the existing IAAF World Record. Performances which equal the existing IAAF World Record will not be eligible for a World Record Award.
Think of any second of men's action over the entire 30-year history of the World Championships and TDK knits together all of these memories.
From Mike Powell's epic Long Jump competition against Carl Lewis at the 1991 Tokyo World Championships to Bolt's awe-inspiring sprint World records back at the 2009 edition in Berlin, TDK has supported every run, jump and throw as bib sponsor (to the men's events) over the past three decades.
The Japanese multinational electro-nics company became involved as an Official IAAF Partner since the inaugural champion-ships were staged in Helsinki, Finland and has established a long and successful association with one of the world's biggest sporting events.
Another Japanese company – Toyota Motor Corporation – offers the same sponsorship package for the women athletes.
An IAAF partner since the Paris World Championships of 2003, it has been the Toyota name emblazoned on the bibs of the female athletes at such moments from Blanka Vlasic's epic High Jump gold at the 2007 Osaka World Championships to Sally Pearson's stunning 100m Hurdles success at the 2011 edition in Daegu.
Toyota will also supply more than 200 vehicles to support the transportation of athletes and staff across the city of Moscow during the event. They will also provide the 'Prius' – the timing and lead car for the Marathon competitions. Meanwhile, a range of Toyota vehicles will be displayed near the stadium
PRIZE MONEY
More than 7 million dollars on offer in Moscow as a total of US$ 7,194,000 in prize money will be paid* by the IAAF in Moscow 2013 as follows:
Individual Events
Gold:     US$ 60,000
Silver:     US$ 30,000
Bronze:     US$ 20,000
fourth place:     US$ 15,000
fifth place:     US$ 10,000
sixth place:     US$ 6000
seventh place:     US$ 5000
eighth place:     US$ 4000
Relays (per team)
Gold:     US$ 80,000
Silver:     US$ 40,000
Bronze:     US$ 20,000
fourth place:     US$ 16,000
fifth place:     US$ 12,000
sixth place:     US$ 8000
seventh place:     US$ 6000
eighth place:     US$ 4000