BY MICHAEL EBOH
The Department of Petroleum Resources, DPR, yesterday, said it was handicapped in stemming the rising incident of pipeline vandalisation and crude theft in Nigeria, raising concerns that the trend may continue unabated in the next couple of months.
Speaking during a visit of the House of Representatives' Committee on Petroleum Resources (Upstream) to DPR as part of their oversight function, Mr. George Osahon, Director, Petroleum Resources, said DPR was not empowered to monitor the pipelines and was presently not in a better position to address the anomaly.
According to him, DPR was not an enforcer and does not carry arms, adding, however, that it intends putting in place the necessary machinery to address this ugly trend.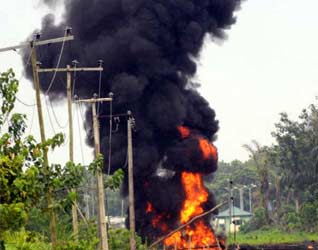 Also, members of the House Committee expressed displeasure at the high incident of crude theft, saying that the House was worried with the fact that the country was losing about 400, 000 barrels of oil per day.
Mr. Ajibola Muraino, Chairman of the Committee said the development was threatening Nigeria's revenue and if left unchecked, will attain a worrisome dimension.
N2.5trn annual loss
His concern stems from the fact that the loss of 400,000 barrels of crude per day translates to a loss of about $42.728 million (N6.836 billion) daily, $1.282 billion (N205.08 billion) monthly or $15.38 billion (N2.461 trillion) annually for the country.
Muraino said: "This amount is equivalent to the total daily crude output of about 14 countries. This is nothing to be happy about."
Osahon urged the Federal Government to take steps towards addressing this worrisome trend, calling for an urgent military intervention in protecting oil facilities across the country.
He said: "Limited funds availability has hindered DPR from carrying out what it should have done. Another issue is crude theft and gas flaring.
"DPR alone cannot solve the issue of crude theft. Urgent steps need to be taken, such as military intervention."
He appealed to the National Assembly to assist DPR in any way it can to address the challenges of crude theft and vandalisation of oil facilities.
Continuing, Muraino emphasised the need for DPR to be alive to its responsibilities in line with the country's dwindling crude output, which is likely to threaten the country's revenue in the years ahead.
C'ttee's recommendation
He called on the Federal Government to immediately implement the proposal of its Committee on Pipeline Vandalisation, saying the recommendations will go a long way in reducing crude theft.
Among the recommendations, he said, is the proposal that the government establish a dedicated telephone line so that members of the public can report acts of vandalism.
He added that the proposals include that the Federal Government discontinue the use of private security outfit in policing oil installations nationwide since these private security outfit later come to make use of military and para-military personnel.
He said: "We also proposed that the Federal Government deploy security operatives to the export terminals where these ships take off with crude oil to other countries.
"When security operatives are deployed to these export terminals, they will be able to determine ships that are carrying stolen crude."
DPR beats revenue target
He commended DPR for its exceptional performance over the last six months, saying that DPR surpassed its revenue target for the period by N86 billion.
According to him, DPR's approved revenue for the period, January to June 2013 was N383 billion, but on proper scrutiny of the books, it discovered that DPR generated about N470 billion.
Muraino called on DPR to step up efforts at increasing its internally-generated revenue, saying that they were expecting a proposal from DPR on how to grow its earnings.
Muraino directed DPR to ensure that petrol is sold at the official rate at filling stations across the country, by stepping up its monitoring activities and putting in a place dedicated telephone lines, where members of the public can report sharp practices in filling stations.
Subscribe for latest Videos