By Henry Umoru
*77 aspirants jostle for 17 national offices
Members of the ruling Peoples Democratic Party (PDP) will, on Saturday, converge on the nation's capital city, Abuja to correct a self-afflicted mistake, that is, conduct a Special National Convention where members of the National Working Committee, NWC, who resigned June 20 will be re-elected or replaced.
The party's headache is how to drive the process that would lead to the emergence of the NWC members to join the National Chairman, Alhaji Bamanga Tukur.
The journey to this Special National Convention started when the Independent National Electoral Commission, INEC, came up with a report that the conduct of March 2012 National Convention was not thorough.
It was first the case of INEC should go to hell as it had no such power to void the PDP Convention from which the NWC members emerged.
But the implementation of the INEC report became imperative for the PDP because it was geared towards regularizing the membership of the NWC as well as giving the leadership credibility without which elections or congresses conducted by the NWC may be questioned in court and thus put the 2015 presidential primaries at risk.
According to the INEC report on the March 24 2012 National Convention, "The mode of election adopted for single candidates was not in accordance with the mode of election stipulated in paragraph 6.5 (i) of the guidelines for the conduct of the year 2012 congresses and National Convention and therefore not acceptable to the Commission".
In the report, INEC stated that election of single candidates whose process of coming in was through affirmation was not acceptable to it.
Those affected by the report include the Deputy National Chairman, Dr. Sam Sam Jaja; National Organizing Secretary; Abubakar Mustapha; National Youth Leader, Alhaji Garba Chiza; Deputy National Youth Leader, Dennis Alonge Niyi; Deputy National Auditor, Senator Umar Ibrahim; Deputy National Woman, Hannatu Ulam, and National Woman Leader, Kema Chikwe.
Also affected are Deputy National Organizing Secretary, Okechukwu Nnadozie; Deputy National Treasurer, Claudus Inengas; National Legal Adviser, Victor Kwon; National Publicity Secretary, Olisa Metuh and the Deputy National Publicity Secretary, Binta Goje.
INEC declared that only four NWC members were duly elected. Those whose election followed the guidelines were the National Chairman, Alhaji Bamanga Tukur; the former National Secretary, Prince Olagunsoye Oyinlola; former National Auditor, Bode Mustapha, and National Financial Secretary, Elder Bolaji Anani. Mustapha has since been replaced by Adewale Adeyanju as National Auditor.
The INEC report led to the resignation of the eight PDP national officers, leaving Tukur to work with the National Financial Secretary, Anani, and the National Auditor, Adeyanju. Eight officers were thus appointed to assist Tukur and the two officials to run the PDP.
The interim officers are the former Deputy Speaker, House of Representatives, Chief Chibudom Nwuche who replaced the Deputy National Chairman, Sam Sam Jaja; Remi Akintoye, Acting National Secretary; Senator Emma Agboti, Acting Deputy National Secretary; Yusuf Hamisu Abubakar, Acting National Organising Secretary; Tony Ceaser Okeke, Acting National Publicity Secretary; Simon Jok, Acting National Legal Adviser; Barrister Tanko Beji, Acting National Youth Leader; Oyibo Nwaneri, Acting National Woman Leader; Yau Kwadon, Acting Deputy National Legal Adviser; Peter Adefunmilayo, Acting Deputy National Youth Leader; Nasiru Ibrahim Birchi, Acting Deputy National Auditor.
Others are Mrs Torkwase Ajoh, Acting Deputy National Women Leader; Mohammed Dandari, Acting National Treasurer and Deputy National Financial Secretary, Awwalu Gwadabe; Onyemaechi Ikechukwu Jideofor, Acting Deputy National Organising Secretary; Augustine Lugbenwei, Acting Deputy National Treasurer; Calib Yahaya, Acting Deputy National Treasurer; Chief Akin Taiwo, Acting Ex-officio; Tope Ademiluyi, Acting Ex-officio; Chief Mike Akinfenwa and Gbenga Oduwaiye as Ex-officio.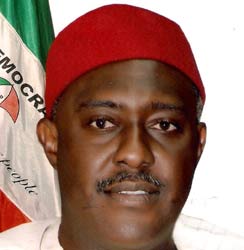 The party, at its June 20 National Executive Committee, NEC, meeting, raised a Special National Convention Planning Committee led by former Minister of Information, Professor Jerry Gana, with Governor Godswill Akpabio of Akwa Ibom State as his Deputy while, Deputy Senate President Ike Ekweremadu and Ambassador Aminu as co-Deputy Chairmen and former acting National Secretary, Dr. Musa Babayo, as Deputy Secretary. The convention was then fixed for July 20, and Zonal Congress for the South-West, July 11.
77 aspirants showed interest in the 17 offices due to be contested. The offices are the Deputy National Chairman, Deputy National Secretary; National Organising Secretary; Deputy National Organising Secretary; National Publicity Secretary; Deputy National Publicity Secretary; National Treasurer; Deputy National Treasurer; National Legal Adviser; Deputy National Legal Adviser; National Woman Leader; Deputy National Woman Leader; National Youth Leader; Deputy National Youth leader; Deputy National Youth Leader; Deputy Financial Secretary; Deputy National Auditor; and Ex-officio members.
But the July 20 date for the convention had to be shifted following a court injunction restraining the conduct of the South-West Zonal Congress slated for August 24.
Those vying for the past of the Deputy National Chairman in the Saturday election are Opusunju Silva; Jaja Sam Sam; Secondus Uche; Omu Stella Unuezi; Isibor Dongo Peter; and  High Chief Jerome A. Eke.
For National Secretary, those contesting are Chief Babatope Ebenezer Oluwole B; Owolabi Babalola Isaac; Oladipo Adewale Abiodun (Prof); Kayode Adetokunbo Adeyinka; Salis Owolabi; Sarumi Oladapo Babatunde; Adeniran Tunde; and Oke Olusola Alex.
For the position of Deputy National Secretary, those slugging it out are Nwonu Ephraim Iyke and Onwe Solomon Onwe. Those for National Organizing Secretary are Mustapha Abubakar and Sidi Ibrahim Bamalli.
Aspirants for the position of Deputy National Organising Secretary are Okigbo Patrick Ogechukwu; Nwangwu Innocent N.; Nnaedozie Okechukwu M.; Uchechukwu Chukwuma Ogbonna; Prof Ezeh Nicholas Chika and Okolo Christopher .K. (Engr.)
For National Publicity Secretary, the contenders are Metuh Olisa; Ononuju Katch .B. Onyedika; Akwaugo .A. Iloanya; Iwuanyanwu Chyna; Nwosu Caroline; Aroh Okey Muo; Anyanwu Longers Nzennata; Offodile Chudi; Nwabuona Anthony; Madueke Obi Christian and Chidebe-Samuel Chidi E.
Deputy National Publicity Secretary has Elias John Babani; Barrister Maidugu Bashir and Tijani Kwaji Kwaghe.
The battle for the position of National Treasurer will be fought between Gwandu Bala Labbo and Bala Buhari. Enegesi Claudius Godsave is the only candidate for Deputy National Treasurer; Kwon Victor Yusufu for National Legal Adviser and Jalo Abdullahi Ibrahim for Deputy National Legal Adviser.
For National Woman Leader, the contenders are Kema Chikwe Nonyerem; Nosike Ann Frances; Nwabueze Nikky Nkiru; Ibeneme Heplizibah Chika; Nnadi Bettylhukaku;Orubele Ngozi Bernadette; Chukukere (Dr.) Gloria Chineze; Uchegbu Kate Ada; Ineh Lady Love Ihuoma
And Onuoha-Ibezim Mariam (Princess), just as the only candidate for the position of Deputy National Woman Leader is Ullam Hanatu.
Those vying for the National Youth Leader are the immediate past occupant of the office, Alhaji Garba Umar Chiza, Mohammed Mariam Al-Hassan; Ugboho Ajon F.; Baba Wakili; Adeyemi Olabode John and Hussaini Abdullahi Maibasira.
The position of Deputy National Youth Leader has Muham'med Abdulganiy (Gani); Ogunmilade Olubiyi Felix; Alonge Olaniyi O. Dennis and Aisida Victor Modupe while Deputy National Financial Secretary position has Gwalabe Auwalu Abdu and Deputy National Auditor, Alhaji Lawal D. Anche.
For national ex-officio are Olasehinde Fumilayo Abiola; Fashola – Ikwue Margaret Kikelomo; Koshoedo Setonji Gbemenu; Adebiyi Olubunmi Agbeke; Chief/Mrs Ogwnsakin Olayinka Florence; Akinfenwa Michael Akinade Oladafe; Ojo Mercy Adesewa; Olorunsogo Esther Olukerni; Yinka Ogunbiyi Tolu; Mrs Adedeji Otiti;Teju Omotosho Olamide; Alhaji Akanbi Bashlru Adewale J.P; Adebajo-Fraser Princess Gloria; 0lu Wale; Olowofoyeku Ayotunde; Osinroluke-Euba Olawunmi Taiwo and Dakova-Vauqhan David Kolawole.
While some of the immediate past NWC members are lucky that their states and zones are re-presenting them, others are not, even as power play has set in for the 2015 presidential election, as the PDP leaders are jostling about who will control the delegates.
The immediate past National Legal Adviser from Plateau State, Kwon is being returned unopposed, just as Jalo Abdullahi Ibrahim is returning as Deputy National Legal Adviser; Ullam Hanatu as Deputy National Woman Leader; Gwalabe Auwalu Abdu as Deputy National Financial Secretary and Alhaji Lawal Anche as Deputy National Auditor.