By SONI DANIEL, REGIONAL EDITOR, NORTH &, HENRY UMORU
Peoples Democratic Party, PDP, has said it is unaware of any offer by President Goodluck Jonathan, to erstwhile Chief Security Officer, CSO, to the late Sani Abacha, Major Al-Mustapha, to join the party.
An online publication  reported that the President had indeed wooed Al-Mustapha, freed by an Appeal Court last month of complicity in the murder of Kudirat Abiola, wife of late MKO Abiola, to join PDP with a view to using his new-found popularity to win political support for his re-election in 2015.
The medium said however that it was not clear if the Army Major would accept the offer as he did not give an immediate response.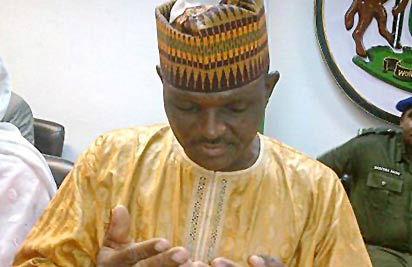 It was further reported by the medium that Al Mustapha opted to report to some influential northern political leaders before making his position known to the Presidency.
But the PDP yesterday denied any talks between the President and the former Abacha's CSO.
The National Publicity Secretary of the PDP, Mr. Tony Caesar Okeke, said there was no such invitation and that those banding the story did so for ulterior purpose, saying "We are not aware of any such invitation."
But the National President of the Arewa Youths Consultative Forum, Alhaji Shettima Yerima, said there was nothing wrong for the former CSO to seek higher office in the land if he left the army.