TO snatch political power from the Saraki dynasty in coming elections beginning with the forthcoming local council polls, opposition forces are regrouping in Kwara.
BY DEMOLA AKINYEMI
They met last weekend under the aegis of Kwara Citizenship Development Initiative (KCDI) to strategise ahead of the elections.
Apart from former chairman of the Independent Corrupt Practices and other related offences Commission, ICPC, Justice Mustapha Akanbi, who chaired the opening ceremony, most persons at the parley were opposition politicians.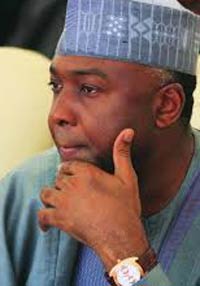 They were drawn from the defunct Action Congress of Nigeria (ACN), All Nigeria Peoples Party (ANPP) and Congress for Progressive Change (CPC) now All Peoples Congress (APC).
Also present were some Peoples Democratic Party (PDP) members including Engineer Sunday Adebayo Babalola, a former gubernatorial aspirant and brain box of the KCDI, who was allegedly short-changed in the last PDP governorship primaries.
KCDI leaders said the group is out to wrest power from Senator Abubakar Bukola Saraki, who took over political power in the state even when his father, Dr Olusola Saraki, was alive.
On the board of the nascent KCDI are: Dr Amuda Aluko, Tafidan of Ilorin; Dr Sarah Jubril; Captain Taiwo Popoola and Engr. Babalola while members of the National Executive Council are Hon. Yekini Alajagbusi, Hon. Saka Salawu, Dr. Ibrahim A. Jawando and Chief James Bola Okunola.
The membership of the BOT and NEC cut across the three senatorial districts -Kwara Central, Kwara South and Kwara North.
Speaking on why they came together, the BOT Chairman, Dr Aluko said: "The Kwara Citizenship Development Initiative is an initiative of people of my age and those closer to my age. It is not a political organisation, the purpose is to create awareness so that people don't sleep on their rights.
"I have been practising Medicine since 1961, in my days when I was in school, I started from the Middle School here (now GSS, Ilorin)before  going to Barewa College. I must say even until I finished my medical training, my parents did not pay a kobo.
"So the good people of Kwara thought that the society has done so much for us and the time has now come for us to pay back to the society. In my days we were even given pocket money every Friday. Today, where has that money gone to?
"Nigeria is not a poor country even before the advent of petrol, because of the greed, corruption at the highest level, what  we regard as things that should be given to the society are not given to the society, and members of the board of trustees felt that we cannot just fold our arms and  continue to watch. The time has come for us to pay back what the society has done for us by creating an awareness, by making people to realise that the government they deserve is what Almighty Allah usually give to them.
"The question of people imposing X and Y on the community should no longer exist. People should be able to choose their leaders and I bet you, God will guide an individual to vote right as long as they  are conscious of their rights."
Advising Nigerians to resist imposition of leaders, he said: ' I am saying this with all emphasis that it deserves, imposition should be a thing of the past, people should be allowed to choöse who is going to lead them.
"I will give you an example, when I was a young medical officer, I was posted to Katsina, now the capital of Katsina state where I met Alhaji Musa Yar'Adua, the father of late President Umaru Yar Adua, he was then the Minister for Lagos Affairs.
"I am sure if you go down the memory lane, Musa Yar 'Adua hasn't gotten a parcel of land nor a building in Lagos and this was the lot of the people who governed this country at that time. They governed with the fear of God but what do you see today? Whether we like it or not, everything that has got a beginning must have an end. A day is coming we will be answerable to Almighty God.
"Nigeria is not a poor country, and yet we have people suffering in abject poverty. The majority cannot even boast of two square meals in a day. People are really hungry, it shouldn't be. By the grace of God as I have said, this organisation is non- political, we have people from SDP, PDP APC and so on and so forth and on lookers, people who are not even interested in politics. The major thing we are trying to do is to create awareness, to educate our people for them not to sleep on their rights."
The leader stressed the need for sustenance of democracy in the country because "all over the world, military government is no longer fashionable, if you don't have democracy what do you have? I don't think there is anything that is better than democracy provided that we stop imposition of leadership.
Look if you have a good leader, what is corruption, what is kidnapping?, everything will varnish because he will be a symbol for everybody to emulate. Corruption is from the top, I am appealing to journalists to expose those that should be exposed so that Nigeria can be a peaceful and prosperous country for all of us to enjoy.