By BENJAMIN NJOKU & ANOZIE EGOLE
Since the death of  Afro-beat legend, Fela Anikulapo Kuti about 16 years ago,  his musical influence and activism have  continued to grow in the conscience of millions of his fans  who are scattered all over the world.
This fact comes alive once again  as the world remembers the undying contributions of the late Afro-beat legend to the world music  with the flagging of the week-long annual 'Felabration' to mark his 75th birthday soon.
No doubt, the impact of Fela who died on August 2, 1997 at the age of 58 would  continue to reverberate, especially in Nigeria where many years after independence, the country has failed to take its rightful place in the comity of nations as it is bugged down by the social issues that dominated Fela's music while he lived.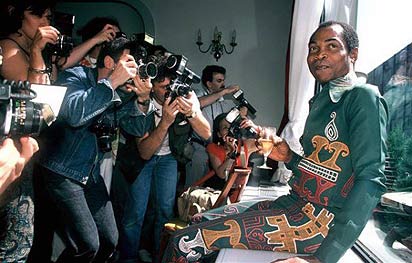 Oppression, corruption, sex, poverty, wicked multinationals, exploitative tendencies of both religious divide,  pollution, among others were some of the social maladies which unfortunately form the bane of underdevelopment that legendary Afro-beat musician frowned at and strongly criticised in his music. Today, 16 years after his death, Nigeria has not been able to make headway as to disprove some of the issues that Fela raised in his music.
It would not be forgotten in hurry that Fela fearlessly criticised Nigeria's corrupt elite, lashing out in songs like "Coffin for Head of State" or "International Thief Thief", but with irresistible grooves that combined jazz, traditional music and other sounds.
As a major activist for Pan-Africanism and anti-colonialism, and because of his socialist beliefs, Fela had many run-ins with the authorities of several African countries. His struggles made him an icon of the Black Power movement. He attempted to run for Nigerian President several times, but was never allowed to.
Interestingly, Fela did not only  concern himself with Nigeria's problems.  His first son, Femi Kuti once remarked that his late father  also spoke against the injustices of colonialism.
His songs repeatedly landed him in trouble with the authorities, including arrests and the allegedly   burning of his compound, by soldiers,which he had christened the Kalakuta Republic and declared independent. Fela's original Shrine club where he regularly performed was shut down after his death by  his family. But they later re-opened the New Afrika Shrine at another location in Ikeja.
Married to 27 women on the same day, most of them his dancers, and his love of marijuana was well-documented, Fela has since transformed into a deity. His followers hold the belief that he still lives on.
Since his death at the age of  58, in 1997, from an AIDS -related illness, Fela's legacy has in some ways today  been sustained. The Broadway musical about his life that drew rare reviews a few years ago and turning his last house,located in Ikeja, into a museum were some of the efforts made  by his family and  those whom he influenced with music to  preserve his legacy.
Aknowledging Fela's unequalled  contribution towards  the development of Nigerian music, reggae artiste, Orits Wiliki noted that the Afrobeat king set a record that no musician in Nigeria has been able to beat.  "To me, Fela set a record that has not been beaten by any musician since death", adding "he maintained the highest fan base in the Nigerian music industry. In fact, I doubt if anyone can  beat his record until eternity.  He really inspired a whole lot of Nigerian musicians."
Also, speaking in the same vein, gospel singer, Buchi said, although he disagreed with the late musician's social philosophy,he commended his followers for sustaining his legacy. " I commend his discipline and focus in music, it  was legendary. But his social philosophy I totally disagree with. He left on his trail, a large community of Indian hemp smokers and miscreants," Buch said.
Indeed,it would be recalled that after the first Kalakuta Republic was destroyed, Kuti moved to the three-storey building,  which has been turned into a museum,courtesy of Lagos State government.
"It is very important to me, and this is why we buried him here in the first place  because we wanted to turn this place into a museum after he passed away," said Yeni Kuti as she stood on the building's rooftop terrace.
Meanwhile, to immortalise his name, the Lagos State government provided the family with N40 million  (200,000 euros, $250,000) to set up a museum in Fela'smemory which was opened in October, last year  during "Felebration", an annual series of events honouring Fela around his birthday.
Subscribe for latest Videos