Super Eagles Head Coach, Stephen Okechukwu Keshi (CFR), has debunked claims making the rounds that he has foreclosed the issue of team skipper, Joseph Tambarin Yobo, returning to the team, insisting that Yobo will sooner than later be back in the squad.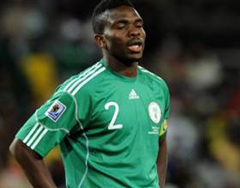 Super Eagles Media Officer, Ben Alaiya, quotes the coach as saying he never spoke to any media organization regarding the return to the national team or otherwise of Yobo in Abidjan during the Eagles CHAN qualifier against the Elephants of Cote D'Ivoire.
"He is like a younger brother to me and I want the best for him but there seems to be a desperate bid to create a war between me and my captain and I will always reject that because he remains one of Nigeria's big football players and we cannot rush him out just like that", Keshi said
The Eagles boss declared that there are issues he is always misquoted out of context about. "When I speak about the NFF, it's convenient for people to misquote me, to create crisis between me and my employers but I had never had any problem with them and they have said so.
"The Aminu Maigari led NFF board has been more than supportive of the team we have on ground and nobody should say otherwise just to create sensation. There are channels of communications in the NFF and the Super Eagles and if information do not come though those channels they should be disregarded".