BY UDUMA KALU,  with agency report
…Says FG brings down anyone with ambition
Governor Rotimi Amaechi of Rivers State has said that he visited the state House of Assembly on the day of the crisis to rescue some lawmakers, who were being attacked because the police assigned to the assembly had been compromised.
Speaking, yesterday, at Chatham House in Central London, where hundreds of Rivers indigenes and students came to support him, Amaechi said the crises began when it was suspected that he had higher political ambitions for 2015.
He delivered a speech entitled Reform and Resource Governance in Nigeria.
He said the current political crisis involving him was based on the assumption that "I want to run for 2015 elections. But again, there is no law that criminalises ambition in Nigeria. It is sad because people do everything to bring you down.
"If this crisis continues, one group will lose and that is the people of Rivers State. Should the state suffer for the so-called ambition of the governor?"
Amaechi said even when he had not declared for any position, the impact of the clampdown was that several projects in Rivers State had been put on ice by Federal Government.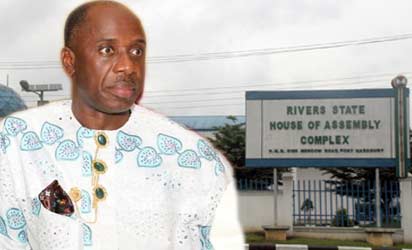 Impact on Rivers
He said: "For instance, we have two helicopters to monitor security that they have refused permission to be brought into the country and they have frustrated plans we have to open a syringe manufacturing factory in Rivers State.
"Even if they have an issue with me, why should the whole of Rivers State suffer? We have numerous projects for which we have signed agreements with Federal Government to introduce and implement.
"But since this crisis began they have suspended all of them and the people feeling it are the ordinary people of Rivers State."
Students, who came to for the event said they were there to show appreciation for the good work their governor was doing. Many of the students were beneficiaries of the governor's scholarship scheme designed to improve manpower in the state.
Chaired by the British MP, Richard Fuller, Vice Chairman of All-Party Parliamentary Group on Nigeria in the House of Commons, the session was part of Chatham House's African dialogue series.
Chatham House, home of the Royal Institute of International Affairs, regularly invites Nigerian politicians to the UK to participate in its discussions about how the African continent is developing.
Amaechi on Rivers' crisis
Amaechi stressed that the current crisis in Rivers State threatens security, and that some of the disbanded militant groups have now been revived and are being used to cause mayhem and protest against his government.
He added that on the day there was fracas in the Rivers State House of Assembly, many of the thugs were brought in with the connivance of the police commissioner.
He said: "I used to be the Speaker of the House and the law is that you are not even allowed to bring your walking stick in when entering.
"How did these people manage to bring in thugs, weapons, a fake mace and cause mayhem while the police were not only looking on but aiding them?"
He said that the violence started long before the recording seen on Youtube, when five assemblymen smuggled a fake mace into the House and used hoodlums to create chaos.
Lists achievements
According to the governor, after the Police Commissioner refused to do anything about it, he went there with his security detail and it was they who eventually restored order.
Outlining a catalogue of achievements his administration had recorded since assuming office in 2007, Governor Amaechi said they included infrastructure projects, agricultural plantations, sending hundreds of students on scholarship to the UK and Canada and massive funding of education.
He pointed out that 500 primary schools have been built in Rivers State during his tenure and 250 more will be commissioned starting from October.
He said: "The academic structure we inherited was very bad as many children could not stay in school and those who did got a very poor education.
"We are building schools and uniforms, sandals, bags and books are free, while we have built 60 health centres and 70 more will be commissioned before December.
"We send 300 students every year to the UK and Canada on scholarship and we have established palm oil and banana plantations that employ workers.
"By the end of our tenure, we would have laid the foundation for a more robust and less oil-dependent economy in Rivers State."
Noting that Rivers State had the second largest economy in Nigeria, the governor said he was of the opinion that good political leadership could improve things further.
However, he added that the political culture in Nigeria, where politicians believe they are doing the people a favour, is a huge impediment as is the refusal of certain people to leave the political scene.
According to Amaechi, certain politicians have remained on the scene despite having nothing more to offer because they have no other means of earning a living.