By Osaretin Emuze
Chairman of West Africa Supporters Club Sunday Alabi has said supporters across the sub-region will mobilize for the Super Eagles this weekend against the Elephants of Cote d'Ivoire in Abidjan in the second leg qualifier of the Africa Nations Championships (CHAN) for African based players.
Alabi who spoke in Lagos during the week, said they are ready for the match, adding "I have gone round the West Coast sensitizing the supporters to come all out to support the Supers Eagles beat the Ivorians to the African Nations Championships ticket.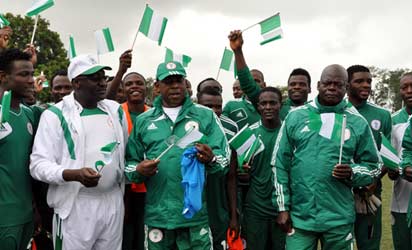 I have been to Mali, Burkina Faso and Ghana to intimate them on the need to come out en masse  to supports the Eagles."
He disclosed that part of the reason he came to Lagos, was to get the blessings of the Nigeria Football Supporters Club President-General, Dr. Rafiu Oladipo on the Abidjan match.
Oladipo corroborated Alabi's claim saying, "we are going to storm Abidjan with a bang. The Eagles will win again in Abidjan," as he appealed to Nigerians to support the Eagles with prayers so that they could come out of the match unscratched.
The home-based Super Eagles a fortnight ago, beat the Elephants of Cote d'Ivoire 4-1 to move nearer South Africa for the CHAN tourney.