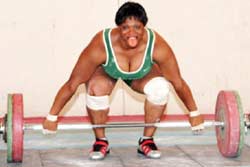 Nigerian weightlifter in an international event.
Athletes, officials and fans coming to the Uyo 2013 National weightlifting champion-ship has been assured of adequate security all through the event which runs from July 29 to August 3.
President of the Nigeria Weightlifting Federation (NWF) Hon. Chibudom Nwuche said yesterday in Abuja that all arrangements have been put in place for a hitch free championship, adding that the federation is paying good attention to security the security of all participants.
"We have contacted the security agencies and we are happy with the peaceful nature of Uyo and Akwa Ibom state generally. Gov Godswill Akpabio is doing a wonderful job in the state and this informed why we took the championship there. We are going to Uyo to enjoy the uncommon transforma-tion of the state by one of the best governors in the country," Nwuche said.
Nwuche disclosed that he would be having a close door parley with the coaches before the commencement of action pointing out that the NWF board is planning big for the coaches.
It would be recalled that the coaches were the first group the NWF president met with in Abuja moments after his emergence as president of the NWF board in May.
The national weightlifting championship is attracting lifters from the 36 states of the federation and athletes discovered during the meet will be called to camp to start preparations for the African championship which Nigeria is hosting in September.