By ANOZIE EGOLE
…Says he hasn't dumped EME…
Becoming a celebrity comes with a lot of challenges and this is a fact, hip-hop star, Ayo Balogun, a.k.a Wizkid, has found out the hard way. Recently, an impostor, impersonating him defrauded his UNILAG fans, prompting the police to invite him(Wizkid) for questioning. The Pepsi ambassador has since shrugged off the experience, but he's on a mission to ensure it does not repeat itself. In this interview with SHOWTIME CELEBRITY, the artiste talks about his UNILAG saga, fame, new record label and more. Enjoy!
What really happened between you and the UNILAG students. You were accused of duping them?
By now, I think all is clear that there are some people parading themselves as either Wizkid or his managers. The unfortunate incident regarding the UNILAG students is a case of mistaken identity where people fell victim to some unscrupulous elements who impersonated me or my representatives. The same people, as we have come to know, went as far as creating fake accounts in my name to dupe people.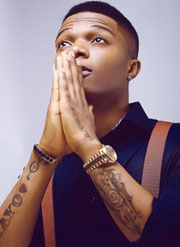 I just don't really want to talk much  about it. There are processes involved in booking Wizkid for shows.  If you want to book Wizkid for a show or anything of the sort, you go to Empire Mates Entertainment, EME, which is my label or you talk to my manager, Godwin Tom. Those  are the main channels to reach me if you want to book me for a show. So,if you've been chatting with the Wizkid on the social media and he has  promised to do something or charges you money, I want you to know that Wizkid never charges anybody or does his business directly. I don't discuss price, I don't talk about anything like that. I allow my management and my label to handle my business. So, nobody talks directly to me concerning payments.
How did you come about the UNILAG palaver?
Basically, the police just called us to inform us of the development. We can't really give full details because we were invited to come to the police station and we went as law abiding citizens. When we got there, we gave our own statement as well as the students. But we really can't say anything now until the police have done their proper investigations. But with the details on ground, what  we want you to know is that the so-called Wizkid the students have been contacting is fake and an impostor. It's really not from me or from anybody around me.
Do you have a procedure for booking you for shows?
Yes, we do. My manager is going to give the proper details, proper emails, the  right phone numbers and other things needed. We are going to definitely make that known. We are going to give full details, so, you will have it. It's a  simple process. Either you contact me or you contact EME directly. But even when you contact me, the whole procedure is that I will direct you to the booking office as well.
It is simple. You send your request via email or you can call us and send us your email address. The booking office would contact you from the email address you have provided with a booking questionnaire. The booking questionnaire seeks information about your event, venue details as well as publicity activities, what you intend to do and other special requests. We don't really want to give more details so that the impostors would not continue with their fraudulent activities.
The email you are talking about that all bookings comes through, is it the same email every communication comes to?
No. If you have contacted anybody regarding a Wizkid show, paid and we do not show up for the event or you do not contact the right people; provide the bank account details, provide the email correspondence. If there was a contract, provide the contract – that is as simple as it gets. We are not fighting with anybody. We sympathise with the students who have been duped, but for you to do it properly, for you to get the best information that you need, it is important  to provide the necessary information.
In this case, what do you think really happened regarding the procedure?
We are letting the police do their job. We have nothing to say because we know very well that we were not the ones they contacted. So, we are not worried. What we are concerned  about is to stop others from being duped by these impostors.
What was your first reaction when you heard the news?
I felt so bad. I just went to my Twitter account and tweeted the normal people to contact if you want to book a show with Wizkid. Let's be realistic. Everybody saw my hustle and watched me grow. When I dropped   "Holla Your Boy", I was much younger and wasn't charging up to N5 million  for shows. This is just playing out and it is simple.
So, how much do you charge now?
N5 million is okay for my show. But let's just put things right. It is so bad to my company's name and my name as well. That is why I  decided to open up on this issue.
What is your relationship with EME at teh moment?
We are doing great, we have been having meetings. Going back and forth, evolving new plans to make EME one of the best record labels, not just in Nigeria but also, in Africa . Everyone is in the studio. Banky W. shot a couple of videos recently. We were at the video shoot last week; we are still working.
There is this rumour that you are no longer with EME?
I have just released an album in collaboration with Wizkid and EME. "Starboy" is my new company, EME is still there for me. "Starboy" is Wizkid's new record label and I have a couple of producers that are working with me in the new company. Definitely, we are working with a lot of people. Banky W and I, started way back. Our dreams have always been to build an empire, to help more people and give them that platform to showcase their talents. And all these dreams cannot happen only with one person.
So, we have to branch out and reach out to more people. The industry is really big and there are more than 5 million kids out there roaming about the street and looking for a platform to showcase their talents. We want to give them the platform to do that. So, as you can see, everyone can contribute to that. Now that "Starboy" has started, we thank God, we are doing well. Anybody can start up something. That is just what we are trying to do with EME.
Have you released the track list of your latest album?
Yes, I have done that. I featured Olamide, D'banj and Banky W. The album is ready right now. But we are just putting some finishing touches to it. We will be having a listening party of the album very soon and we are going to announce that as soon as it is ready. We are planning for that. The album is coming out very strong and I thank God that I have put all the necessary things in place. I have a very strong belief that the album is going to win awards.
How long have you known Mallic?
I have known him for quit some time now, about a year and some couple of months. We just talk about business and nothing more. But we took out time and planned something good and we are working on actualising that. This is what I am saying about branching out, giving people platforms to perform. So, I have to give a lot of people that platform. What we are doing together is to set the standard and lead the way for people to follow.
Would you say that his production input has redefined your music?
Of course, and everybody he has worked with. Even he produces Afrobeat  sometimes. Nobody knows it all. We also produced in the UK, so, it was like me working with him. We are still learning, it is a process. No one knows it all.
There is this rumour making the rounds  that you have replaced your accidented Porsche car. Is it true?
Yes, that is absolutely true. We thank God for that. We thank Him for sparing my life. This is not the first time I've had such an encounter. That doesn't mean I am a freak, but I needed to be mobile. I was moving around with a taxi all through the duration of the accident which is not proper.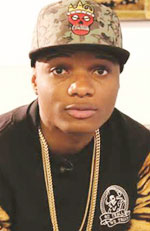 A whole lot of people have been blowing the accident out of proportion. But how bad was it?
Well, I don't really like talking about the bad side of things. I believe that at some point in life, we all have to learn something good about life, something that would help our life in the future. When I had that accident I was like, I had to check myself and know the things I am not doing right. My mind told me that anything I am doing, I have to do it faster. I was like, if the world had ended that day, what would I have done. I thanked God for keeping me alive to testify his goodness. I made a promise to myself to never get down because of the accident. So, life must go on, no matter what it takes.
How has your evolution in the musical world been?
It has been massive. I have learnt so much and I have worked with so many legends. It is really mind- blowing. For me, I feel so excited. I am still learning and striving to get to the top. When I look back to where I started, I see a lot of accomplishments.That's what normally comes to my mind. I also feel blessed, but it goes with a lot of responsibilities. You know, everything is for a while. It is the legacy that you built while you were there that lasts. So, I try as much as possible to leave a legacy so that even when I am not here, people will not forget my name easily.
What really prompted you to do a 'collabo' with Femi Kuti?
Yes, a lot of people never expected that. People think Wizkid talks only about girls, cars  and some flashy things in his music, but I don't. All I talk about in my music is true life story. When I decided to do "Jayejaye" with Femi, I just really wanted to pass a message of  what Wizkid wants to be or  ways you can be like Wizkid. I still have not done anything, but people think I have done many things. I don't think I have done a lot, I am still learning. The "Jayejaye" music was just to bridge the gap between the old and the young people. A big shout out to Femi Kuti for giving me the chance to do that track with him. I called him a day before we recorded the track and he allowed me. So, I am just saying a big thank you.
So, what should fans expect from your forthcoming album?
They should expect everything magical. We have put in a lot of work and we are just hoping that everyone likes the album. I have been in the studio for weeks and even months now. I can't wait for the album to be released. I hope everybody will like the album. I have just put in a lot of hard work.
It's like you have a passion for flashy cars?
No, I don't think so. A lot of people drive more flashy  cars than I do, even in the entertainment industry. I really don't think like that. After the accident , I had no other car to drive around. Believe it or not, I moving around with  a taxi and I didn't like that.  I don't think that amounts to having passion for flashy cars.  What about people in government that spend so much money on cars? I worked hard to make my money, so I need to use it well. If someone works hard for his money and decides to spend it for his pleasure, I don't think it is a bad idea.
How do you feel  reading stories of some artistes who cannot fend for themselves when they grow old?
I have to learn from them and know how to make savings. If I am not learning from people that came before, then what am I  doing? It's not that anybody is wishing anybody bad, but we must learn and plan ahead.