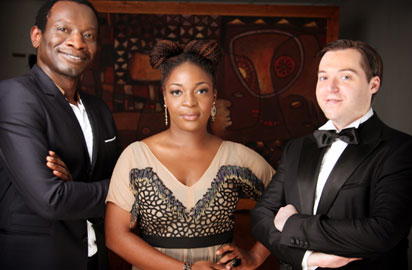 Azu Nwagbogu, Wunika Mukan and Joseph Gergel
By REMMY DIAGBARE
African Artists' Foundation (AAF) has been an innovative and vital force in the Nigerian arts community over the last seven years. It is a non-profit organization dedicated to the development of contemporary art, providing immense opportunities for artists to develop their practice and establish a platform for artistic expression. Its core staff is an eclectic and international group.
AAF has already cemented itself as a leading arts organization in Nigeria; in a cultural climate where very few options for artists exist outside of formal education. As the foundation puts it: "We are currently at a definitive turning point in the foundation's evolution from an emerging start-up to a full-fledged arts institution.
We are now ready to take the next step to expand our resources to be able to implement our long term mission in providing a sustainable outlet to develop contemporary art. As we increase the opportunities available for emerging artists, we aim to serve as a model for arts organizations throughout the country and across the region.
We also have a firm belief that art is the most sophisticated and therefore most powerful medium for social commentary and communication, which is important if a nation, continent and people must evolve and survive."
Established in 2007 in Lagos, Nigeria, African Artists' Foundation aims to encourage the highest standard of art in Africa. African Artists' Foundation plays a significant role in art and academic communities through organizing art exhibitions, festivals, competitions, residencies, and workshops with the aim of unearthing and developing talent, creating societal awareness, and providing a platform to express creativity.
By providing assistance to professional and emerging artists in Africa and support to international exhibitions and community outreach programmes, African Artists' Foundation views its contribution to a strong cultural landscape in Africa as a transformative element in driving social change.
Azu Nwagbogu – Director
Azu Nwagbogu is the founder and director of the African Artists' Foundation (AAF), a non- profit organization based in Lagos, Nigeria. AAF is dedicated to the promotion and development of contemporary African arts and artists. Nwagbogu founded the National Art Competition in 2008, an annual arts competition in Nigeria that provides a platform of exposure to emerging Nigerian artists.
Nwagbogu also serves as founder and director of the LagosPhoto Festival, an annual international arts festival of photography that brings leading local and international photographers in dialogue with multi-faceted stories of Africa. Nwagbogu has served as a juror for the Dutch Doc and POPCAP Photography Awards. Nwagbogu lives and works in Lagos.
ARE YOU A TRAINED ARTIST? IF YES, WHICH GENRE AND ARE YOU STILL PRACTISING?
No, I am not a trained artist but I have always had great appreciation of all genres of art. I see my role here not to create art myself but to participate in the facilitation of the development of a healthy arts scene in Nigeria and Africa as a whole.
YOU ESTABLISHED THE AFRICAN ARTS FOUNDATION 7YEARS AGO. WHY DID YOU FEEL THERE WAS NEED TO SET UP AN NGO INSTEAD OF SETTING UP A GALLERY?
At the time the foundation was established, there were very few opportunities for artists to expose their works and advance their practice in Nigeria. I saw a major gap in the avenues that would build a sustainable contemporary arts scene and I felt that the creation of a non-profit organisation such as AAF would set a precedent for future cultural engagement.
My brother, Chike Nwagbogu, had already established the Nimbus Gallery, which quickly became a breeding ground for emerging artists in the country so, with his guidance, I saw the immense talent pool waiting for more opportunities. Also through my close association with him, I realized that inherently the core of Nimbus practice was largely built as a charity even though it was known as a commercial space.
IN WHAT WAYS HAVE YOU HELPED TO PROMOTE CONTEMPORARY AFRICAN ARTS IN NIGERIA AND IN THE DIASPORA?
Our flagship projects – the LagosPhoto Festival, the National Art Competition, and the Female Artist Development Project – have created a foundation for artists to develop their career in diverse mediums and conceptual practices. Our gallery hosts exhibitions and workshops, and is constantly full of energy and artists mingling and hanging out. In this way, we have supported a thriving community of artists, which is the most important thing in creating the next generation of artists in the country.
HOW WILL YOU DESCRIBE CONTEMPORARY NIGERIAN ART AND OTHER AFRICAN ARTISTIC WORK?
In the seven years I have been director of AAF, I have been amazed at the growth of artists in the country and the level of work produced. Contemporary art in Nigeria and the African continent is flourishing, and it is unique because it shows a fresh perspective in the international art world.
THERE ARE TWO MAJOR PROJECTS – YOU STARTED THE NATIONAL ARTS COMPETITION AND THE LAGOSPHOTO FESTIVAL. COULD YOU TELL ME ABOUT THESE TWO PROJECTS? WHAT WAS THE VISION AND, SO FAR, HAVE YOU ARCHIEVED YOUR AIMS AND ASPIRATIONS FOR THE TWO?
The National Art Competition (NAC) began in 2008 as a platform for artists in the country to expose their works to a larger audience and, with a cash prize, to be able to use the money to develop future projects and also to support art as a viable career option. Since then, it has grown into a major entity in its own right with specific focus on conceptual artistic practices and large-scale installation and the use of non-traditional mediums and techniques.
We need a presence such as the NAC in the country to show the creative community that their work is important and, through the prestige given by participating as a finalist in the competition, future opportunities for these artists to continue their work are opened. We must thank our primary sponsor, Nigerian Breweries PLC, for their consistent support and belief in this project and for backing the NAC from inception to date.
The LagosPhoto Festival began in 2010 as the first and only international arts festival of photography in Nigeria. I observed that a growing number of photographers in the country were producing important bodies of work but there was little appreciation of photography in the country at that point and very few avenues to develop photography here.
The best Nigerian photographers were being exhibited and appreciated abroad and I wanted to bring it back home for a Nigerian audience. Since then, we have created workshops and courses for emerging photographers. We bring in major international photographers to work alongside local photographers. We are also building LagosPhoto to have a permanent presence as a year-round space for photography.
For this project, I must thank Etisalat Nigeria for their support from inception and my partner, Caline Chagoury, and all the staff of AAF especially, those who believed in the project from the start: Omotayo Adeola, Zainab Ashadu, Tinuke Olu (all of whom have since moved on to other things) and now the current team with Medina Dugger, Joseph Gergel, Wunika Mukan, Evelyn Aluede, and our interns and youth corpers. Working at AAF is a labour of love and is very demanding emotionally and spiritually.
THE ARTS COMPETITION IS ABOUT TO START AND I SEE THE PRIZE MONEY HAS BEEN INCREASING YEARLY.  THIS YEAR, THE WINNER WILL GET N2 MILLION. IS THIS TO ATTRACT MORE ROBUST ENTRIES OR THERE IS MORE FUNDING FROM BENEFACTORS?
Every year, our projects grow and we try to improve. The prize money is, of course, a major incentive for the artists involved as it will give them seed money for new projects and a sense of security to go on with their career as artists. However, the competition is much more than the prize money; it is a learning process for the artists and a challenge that has not been presented to them before.
Our sponsors, Nigerian Breweries, have given us immense support from the very beginning, and the National Art Competition would not be possible without their commitment to arts and culture in Nigeria.
WHAT IS THE QUALIFICATION FOR PARTICIPATION AND HOW DOES ONE TAKE PART?
The competition is open to everyone, whether you are an established artist or just starting out. Every year, we have a theme and artists submit proposals for unrealised work as an interpretation of that theme. Our judges, headed by the renowned artist, Prof. El Anatsui, select twelve finalists. The finalists are then invited to take part in an artist-retreat and their works are exhibited at the grand finale, where the winners are decided.
WHO ARE THE JUDGES AND HOW ARE THE WORKS JUDGED?
The judges change every year and come from the arts and cultural sectors of Lagos. As we generally have 10-12 judges per year, it is a very democratic process using a points system so that no person can influence the overall choices.
The work is judged based on originality, interpretation of the theme, and execution. As artists work in many different mediums, it is difficult to compare one work with another but in the end, it is about how it all comes together and works.
WHAT IS THE PREFERED MEDIUM?
There is no preferred medium. In fact, we encourage artists to think outside the box and blend mediums together. We are excited to see something new that has not been done before. Every year, we are pleasantly surprised at the complexity of the finalists' work.
IN TERMS OF APPRECIATION AND COSTING, WOULD YOU SAY NIGERIAN ART IS WELL APPRECIATED AND APPROPRIATELY PRICED?
We have a long way to go for the arts community in Nigeria to be properly funded and have the opportunity to grow at par with other international cities. We need government involvement and public-private partnerships, which is something we hope will escalate in the near future.
For one thing, talent is not in short supply. In terms of the cost of artworks sold, it is still considerably cheaper than their counterparts in other parts of the world, so it's a great time to invest because as the international community has its eye on African art, the prices will only increase.
HOW MUCH OF ART IS PHOTOGRAPHY AND WHICH MEDIUM WOULD YOU PLACE MORE VALUE ON IN TERMS OF MESSAGE AND AESTHETICS?
Photography plays a major role in our society because, photography can be art. But it also exists in advertising, newspapers, billboards, science. There are so many definitions of photography that it is so much more than art. It is also accessible and can be understood by a wide public. But I would not place any more value on one medium than another as what is really important for us at the foundation is the ideas and messages that are behind the works and the medium only becomes the vehicle to express those messages. The truth is that there are no boundaries in contemporary art and with photography in particular, there are truly no limits.
IS THERE ANY PLAN TO INTRODUCE FASHION AS A MARRIAGE BETWEEN PROPER ART AND PHOTOGRAPHY?
Of course, we see fashion as an integral part of contemporary art and have included fashion in the past and will continue to do so. We are interested in being inclusive and bringing the creative community together so, the more the merrier. Fashion can be a barometer to society as it involves self expression and identity. These are very important aspects of artistic expression.
Joseph Gergel – Curator
Joseph Gergel is a curator at African Artists' Foundation and LagosPhoto Festival. Gergel obtained his Master's degree in Modern Art: Critical and Curatorial Studies from Columbia University and a Bachelors degree in Photography and Cultural Theory from New York University.
He received a Certificate in Professional Photography from the Spéos Photography Institute in Paris, France. He has assisted in the curatorial departments at the Museum of Modern Art (New York), the New Museum of Contemporary Art (New York), and the Zendai Museum of Modern Art (Shanghai).
HOW LONG HAVE YOU BEEN WITH THE FOUNDATION AND WHAT IS YOUR ROLE IN THE ORGANISATION?
I arrived in Lagos last June from New York to work as a curator at the African Artists' Foundation. As a curator, I work with artists to organise exhibitions at our gallery and our flagship projects, including choosing works and contextualizing the art to project an over-arching message. I also work with the logistics of implementing our projects, which could be anything from the placement of artworks in the gallery to the continual search for funding.
DESCRIBE WHAT YOU HAVE OBSERVED ABOUT CONTEMPORARY AFRICAN ART AND IF THIS MEDIUM HAS INTERNATIONAL APPEAL?
It is a very exciting time to be working in Lagos as the contemporary art scene in Africa and specifically in Nigeria is really at the cusp of explosion. While there is little infrastructure for the arts in Nigeria, including galleries, museums, representation for artists, and extended educational opportunities, the contemporary art scene is vibrant and growing at a rapid pace.
In many ways, contemporary art in Africa can be easily compared to art that would be made in any other part of the world, as global patterns such as rapid urban development and technological changes are what many artists respond to regardless of geographic origin. In other ways, it is interesting to see the particular point of view of artists whose experiences are particular to their environment and speak to local concerns.
HOW ROBUST HAS THE COMPETITION BEEN? HAS THE QUALITY OF CONTENDERS BEEN WORTH THE MONEY AND TIME?
With an annual theme that artists are asked to respond to, we continue to be greatly impressed in the conceptual breadth of the submissions and final works. A major part of the competition is the process from initial idea to the artist retreat, and the re-thinking and the re-working of the proposal as the artists explore their topics more. The competition is not only about the top prizes but a learning process and an avenue for artistic experimentation, where artists come in dialogue with each other and advance the discourse of contemporary art in Nigeria.
APART FROM PROMOTING ARTS, YOUR ORGANISATION IS ALSO INVOLVED IN PHOTOGRAPHY. WHAT EXACTLY DO YOU PROMOTE WITH THE FESTIVAL?
LagosPhoto is a platform to develop photography in Nigeria and the broader African continent and each October, the month-long festival extends to many satellite venues around the city simultaneously. I like to think that with LagosPhoto, we are taking over the city with images as we aim to reclaim public spaces and engage the general public with contemporary art. As one of only a handful of photography festivals on the continent, LagosPhoto serves an important role in uniting local and international photographers.
WHAT TYPE OF PICTURES DO YOU WORK WITH? WHAT DO YOU DO WITH THEM AFTERWARDS?
Each year, LagosPhoto has a theme and the work is chosen in relation to that theme. We include photo-journalism, documentary photography, fashion photography, fine art, conceptual practices; increasingly looking at how artists expand our understanding of photography through more broadly image-based works. After the festival, we either keep the photographs in our permanent collection or return them to the artists, as per our individual agreements with the photographers.
IS THERE A MARKET INTERNATIONALLY AND LOCALLY FOR THESE PICTURES?
There definitely is. While LagosPhoto is a non-profit entity, we are happy to put potential collectors in touch with the artists as it is a great platform for the photographers to expose their works to a wider audience. We have seen interest both locally and internationally. At our live auction during the LagosPhoto fundraiser last year, one photograph sold for five million naira! So, we are really starting to see photography being taken seriously as a viable medium for collecting and investing.
WHAT IS IT THAT MAKES A PICTURE OR WORK OF ART EXTRA ORDINARY?
It, of course, entirely depends on the individual image and the message that is conveyed. But, I would say that it is that feeling that makes you step back and really examine what you are looking at. Aesthetics is, of course, important. For me, I am attracted to the kinds of images that tell a story from a new perspective, regardless of whether it's a pretty image or not.
IS THIS WHAT YOU LOOK OUT FOR IN THE COMPETITION?
For the National Art Competition, artists can work in all mediums, not only photography. So, there are more elements involved. It is difficult to compare such diverse mediums as sculpture, video, and painting, to name a few, and the scale of the works is very different. During the competition, I look for something that is new; that has not been seen before, and that speaks to art's relation to the society around it.
WHAT DOES IT TAKE TO BECOME A MEMBER OF YOUR FOUNDATION AND HOW OFTEN DO YOU HOLD EXHIBITIONS FOR YOUR ARTISTS?
Artists are welcome to come by the foundation and bring their works to show the curatorial team. Every week, we have many artists who come by for the first time to learn more about how they can become involved. We constantly have opportunities for artists to develop their practice and their career, whether that be inclusion in an exhibition or participation in the workshops and courses that we offer throughout the year. Each year, we hold 6-8 exhibitions at our gallery in Ikoyi, Lagos and they are a combination of solo exhibitions and group thematic shows.
IN WHAT WAYS HAVE YOU HELPED TO PROMOTE CONTEMPORARY AFRICAN ARTS IN NIGERIA AND IN THE DIASPORA?
African Artists' Foundation holds a central place in the contemporary arts scene in Nigeria as it offers opportunities for artists in a cultural climate where very few other opportunities exist for the arts. The most important thing that we do is to build a community for artists to come together and encourage their work as this creates a base that is sustainable and can continue to grow.
HOW WILL YOU DESCRIBE CONTEMPORARY NIGERIA ART AND OTHER AFRICAN ARTISTIC WORKS?
Like contemporary art anywhere in the world, it is impossible to describe such diverse artistic practices in a few adjectives as artists work in so many different ways and speak to many different issues. That being said, as all artists work from their personal experience and contexts, contemporary art in Africa contributes to the global art world by creating a more inclusive and well-rounded conversation.
IS THERE ANY PLAN TO INTRODUCE FASHION AS A MARRIAGE BETWEEN PROPER ART AND PHOTOGRAPHY?
Fashion and art are very much inter-twined. It is impossible to separate the two. We have included fashion photography as an integral part of our LagosPhoto Festival and continue to do so. In our upcoming Female Artist Development Project exhibition, we have reached out to local fashion designers to come up with artworks based on the annual theme. Part of African Artists' Foundation's mission is to expand the boundaries of contemporary art in Nigeria and fashion is one of those mediums that brings art and life into a seamless rhythm.
WHAT DO YOU FIND MOST EXCITING OR GRATIFYING ABOUT THIS JOB?
For me, I find it extremely exciting to be working in Lagos at a time where the contemporary arts scene is still developing and coming into its own. The arts scene in Lagos is still somewhat hidden and underground but once you find it, you are amazed at the creative energy that is bubbling.
WHAT DO YOU DO FOR RELAXATION AND ENJOYMENT?
The funny thing about working in the arts is that it never really turns off. Where art is my job, it is also social and continues after the day is over. The community of creative people in Lagos are constantly doing something new, whether that be a concert or an event or an opening. This has really given me the chance to explore Lagos and see the best of what it has to offer. It has given me a very unique perspective on Nigeria that many expatriates working in Nigeria might not have the chance to see.
Wunika Mukan- Brand Director
Wunika's career began at Howard University Television, organizing fundraisers and campaign pledges for the University's television station. In Washington DC she continued her career with the Discovery Channel before entering into the non- profit world with the Elizabeth Glaser Pediatric AIDS Foundation and National Academy of Sciences.