Four Peoples' Democratic Party, PDP, Governors from the Northern part of the country, Tuesday, paid a solidarity visit to Rivers State Governor, Rotimi Amaechi.
The quartet of Mu'azu Babangida Aliyu of Niger, Sule Lamido of Jigawa, Rabi'u Musa Kwankwaso of Kano and Murtala Nyako of Adamawa states, arrived the Port Harcourt International Airport  Tuesday afternoon amid protests .
In a joint statement, which was made available to Vanguard, the governors said they were in the Rivers State Government House to visit the governor, whom they described as "our brother and Chairman of the Nigeria Governors' Forum" and to ascertain for themselves some of the things they had been reading in the media lately.
Although the governors expressed satisfaction with the peaceful atmosphere in the state despite the political developments there, they said they were shocked over the role being played by the Rivers State Police Commissioner, Mr.  Mbu Joseph Mbu.
The governors said, "We acknowledge the great work Governor Amaechi and his team are doing in Rivers State and commend his maturity and calm even in the face of apparent persecution….
"As Chief Executives of our states who have sworn to protect lives and property in our various states, we are particularly troubled by the development in Rivers State.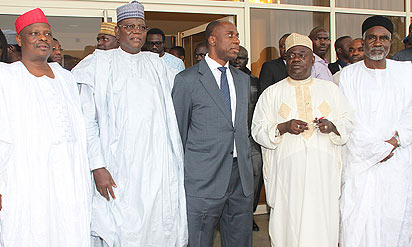 "We commend the House of Representatives for its proactive leadership in the crisis and appreciate the Senate committee's thoroughness in addressing the matter.
"We wish to call on the Inspector General of police to hearken to the voice of reason and immediately redeploy and discipline Commissioner Mbu. His actions smirk of unprofessionalism and political partisanship, which is unbecoming of his office.
"With the way the police is being used and abused and with officers like Mbu in the force, we do not see the need for state governments to fund an antagonistic police and may be forced to reconsider our position on the financial contribution of the states towards the funding of the Nigeria Police.
"Arising from the actions of the police and Mr. Joseph Mbu in Rivers State, the call for state police as a constitutional provision has become a necessity.
"We note that events in Rivers State have again brought to the fore the question of true federalism and the need for institutions derived from constitutions be allowed to function without undue interference.
"As federating units we must be allowed the space to guarantee our people sustainable development as provided by the constitution.