By Jide Ajani
"It is written, that the Office of the State Governor shall become vacant and you, as Mr. Speaker, shall become the next governor of this state.
"It is written and so sayeth the Lord….."
This is no fiction.
Before your mind wanders too far and begins to play tricks on your consciousness, hold your peace – we will get back to that later.
But first, how does the human mind work?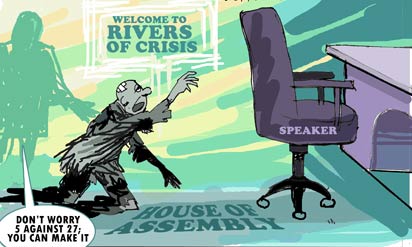 How does the mind determine what is right from what is wrong?
What makes a man launch a voyage with messianic pursuit into realms that are at best unknown and at worst possibly dangerous?
Well, myopia, for one, plays tricks on the human mind. This is an eye focusing disorder, a condition that makes "close objects look clear but distant objects appear blurred". The direct import of this in the instance of politics is that those who engage a process are never able to see the clear and present danger that engagement constitutes until it hits them in the face.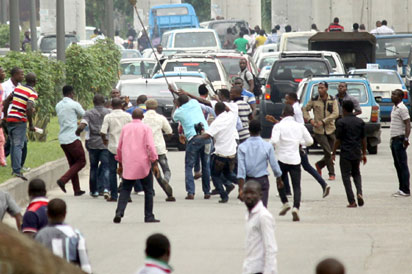 And that is exactly why Nigeria's political space is strewn with acts of serial folly.
Those who threatened to make life miserable for the Goodluck Jonathan administration pre-2011 presidential election have had their conscience run for cover in the face of the rampaging and deadly acts of the Jamaatu Ahlil Sunna Lidawati wal Jihad, otherwise known as Boko Haram.
The same goes for Olusegun Obasanjo's pursuit of the Third Term agenda and the consequential downward spiral of his image and status as a once globally respected statesman.
That introductory prophesy was not from a man of God.
It was the voice of a fake seer, planted in front of the house of the Speaker of the Ekiti State House of Assembly.
It was a story that played out in the state in October, 2006.
Please believe it. That was how it all started and how the state came under emergency rule.
The story goes like this: The Speaker, Ekiti State House of Assembly, had a fake Aladura, a fake seer, planted around his house such that he would hear him make prophetic statements about his (the Speaker's) rise to power. The Speaker had always ignored the seer until the political crisis between Aso Rock Presidential Villa, Abuja (read Obasanjo) and Governor Ayo Fayose almost reached a head. It became clear to the Speaker that the only way he would become governor of Ekiti State was by impeaching Fayose and Mrs Abiodun Olujimi, his deputy.
The first panel set up by the House, in a  most shambolic manner, the Justice Kayode Bamishile Panel, did not meet the expected end. Another panel was hurriedly set up (mind you, all with the mission to fulfill the prophecy), the Aladejana Panel, which swiftly impeached both Fayose and his deputy. Fayose insisted that his purported impeachment was a joke. While this air of uncertainty prevailed, Olujimi was summoned to Abuja by Obasanjo and, upon her return to Ekiti State, pronounced herself governor.
Meanwhile, within 24 hours, the Speaker, too, declared himself governor. As this sordid drama was playing out, there were already instituted, two cases in court. But all these were not to matter as Obasanjo imposed emergency rule and swept aside all democratic structures. So, who says it was not written?
It is the same thing that is happening in Rivers State today. Because some characters who have decided to put their trust in queens – contrary to the Biblical admonition that men should not place their trusts in princes – and who have been assured of the governorship of the state, all hell had to be let loose.
But there are some conclusions to be reached and which are utterly unbecoming of leadership.
To even associate the office of the President and Commander-in-chief of Nigeria with any act that is unbecoming is bad enough.
But without prejudice to the fact that Governor Rotimi Chibuike Amaechi of Rivers State cannot be exculpated from any blame in this matter, does not grant those associated with and fully inspired by Aso Rock the magna carta to turn a House of Assembly into a war zone or seek to remove a governor from office illegally. Each time Aso Rock issues a statement denying complicity, the standard response from most right-thinking Nigerians is, "who does the Presidency think it is fooling?". Yoruba have a saying: "Won pe e lo'le oon gbe omo eran jo" (You're seen as a thief and yet you are dancing away with somebody's goat)? There is sufficient suspicion that Aso Rock is working day and night to get Amaechi out of office and there are serial acts linked to Aso Rock suggesting that pattern; yet it persists along that line.
There is an Arabic saying that an army of lions led by a sheep would always be defeated by an army of sheep led by a lion. Shambolic acts only seek to beget other acts of shambolisim. In a situation where there is already a deficit in goodwill, the powers-that-be choose to go further down the hole? In any case, how does Amaechi's ouster bolster the goodwill and integrity of Aso Rock? So, why waste precious time in helping to acquire more sympathisers for Amaechi while Aso Rock makes itself the object of ridicule and scorn? There was the aircraft issue; the Governors' Forum shame is still there; now we add the Rivers State House of Assembly disgrace.
And to think playing god or goddess is one of the signposts of grand folly makes all this vain pursuit more laughable. Asking why? Because vanity upon vanity comes down to vanity and we are all mortals.
Read our story of the week: House of Assembly crisis: The fantastic five of Rivers