By Kingsley Adegboye
The first phase of Goodluck Estate comprising  228 3-bedroom units has been completed and ready for commissioning. The housing estate which is exclusively residential, is nestled in a very secure and highly accessible part of Idimu in Alimosho area of Lagos metropolis.
The estate which was initiated in 2008 but actual construction work commenced in 2011, has unparalleled access to key city locations such as Ikeja, Murtala Mohammed International Airport, Lagos State University, LASU, Ejigbo, Isolo and Iba.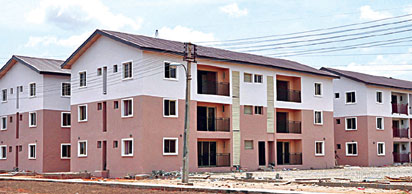 The sprawling estate sited on 11.5 hectares of land, is a partnership deal between the Nigeria Police Force who are the owners of the land and Remax Realtors Nig. Limited, the developer. The estate which is expected to provide 504 housing units of three-bedroom each at the completion of the second phase by 2014, will cost a whopping N4 billion.
In a chat with Vanguard Homes & Property, the chief executive officer of Remax Realtors Nig. Limited, the developers and promoters of the estate, Mrs. Funke Adesoji said the estate which has a leasehold of 99 years, is a Public Private Partnership, PPP project, pointing out that 60 per cent of the 504 housing units the estate is expected to provide would be sold to men and officers in the police force because the police are the owners of the land, and that was the agreement reached between her company and police.
Remax Realtors' boss who noted that she funded the project through borrowed funds from both local  and international financial institutions, disclosed that the remaining 40 per cent would be sold to members of the public.
Mrs. Adesoji who said payment for the apartments can be either by cash which is direct payment or through mortgage arrangement, explained that subscribers who intend to pay through mortgage arrangement must be subscribers to the National Housing Fund, NHF or such subscribers can arrange for mortgage loans through their bankers, as her company has no mortgage arrangement with any of the primary mortgage institutions for the purchase of the apartments.
She disclosed that the key features in the estate are that each flat has a large living and dining room with big windows for aeration, guest toilet, master bedroom en-suite two additional bedrooms with family bathroom and toilet, as well as spacious kitchen with a store.
The infrastructure and facilities in the estate include beautifully landscaped and tarred roads, fully fenced and gated estate, two parking lots per flat, electricity with adequately clustered transformers, solar-powered street lights and boreholes with water treatment plants. Others are standard drainage system, recreational facilities, shopping mall, adequate security, professional facility management services and provision for sports as well as community centre.