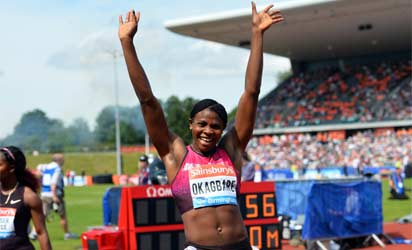 Nigeria's Blessing Okagbare celebrates winning the women's 200m during the IAAF Diamond League athletics meeting at The Alexander Stadium in Birmingham, central England on June 30, 2013. AFP PHOTO
The Olympic Stadium has not necessarily been a happy place for British sprinting but the current crop will be hoping to change that at the Sainsbury's Anniversary Games this weekend, where Blessing Okagbare will be competing
Anyika Onuora and Asha Philip have been enjoying the form of their lives this season, a far cry from 12 months ago.
Onuora managed to make it inside the stadium to compete in London 2012 but her father Chiz passed away a few months earlier in February and she felt she underperformed, unable to make it out of her 100m and 200m heats.
Looking forward, Onuora says: "This weekend feels like a chance to redeem myself. I didn't perform to my best at the Olympics and, for whatever reason, it's brought me to where I am now."
For Onuora, that is into the top 30 in the world this year with a career-best of 22.71 seconds for the 200m, her prefered event at the World Championship trials, although that time is not in the record books because of a marginal following wind.
The fact the 28-year-old is running at all is no mean feat. "I was ready to quit," said Onuora, who had to take temping jobs to make ends meet in the build-up to London 2012.
"I was pretty close to walking away. There was a lot going on and I'd missed out on so much.
The whole of 2012 was hard for me with my dad dying. I even missed his burial in Nairobi because of training, which I know he would have wanted but that was so hard. When I failed to qualify from my heat, I felt like my world had ended."
Then Rana Reider, who coached American Christian Taylor to triple jump gold, made her change her mind. She moved to Loughborough and is relishing the set-up.
"This time last year I was broken before the Games; now I'm in the best shape of my life but even that doesn't feel enough," she says. "In the past, it was about getting the A standard but that's not enough anymore with all the girls pushing. To use a favourite Rana expression you need to 'haul ass'."
"I remember there were times when I thought: 'Why bother? Why should I do this anymore?'," she admits. "Everyone was doing what they wanted to do and I was on crutches with a brace on my leg. I wasn't diagnosed but obviously felt depressed.
"My mum and my aunt were a big help and I realised that I could walk, my legs hadn't been chopped off and there were people much worse off than me." said Philip.