By Tony Ubani
The Nigeria Football Federation was left red-eyed and livid with rage after two matches in amateur league games produced what ordinarily should have shattered the Guinness Book of World Records with 146 goals.
Plateau United Feeders produced a  mind-boggling  79-0 victory over Akurba FC while Police Machine FC demolished Babayaro FC 67-0. All teams were involved in promotion play-offs in which the winners would qualify to play in Nigeria Nationwide League Division 3.
The matches were going on simultaneously and Plateau and Police Machine were in contention for promotion.
The two winners were apparently monitoring their scores and kept recording the goals to outdo each other. The Nigeria Football Federation, alarmed by the scandal,  reacted swiftly by placing the four teams on indefinte suspension and dismissed the results as laughable.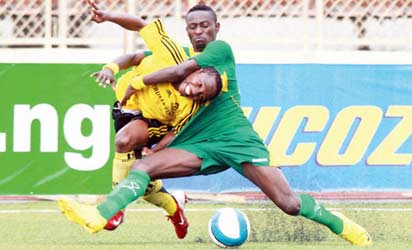 "It is unacceptable. This is a scandal of huge proportions. The four teams involved are suspended immediately and indefinitely, pending further sanctions. We will investigate this matter thoroughly and get to the bottom of it," Chief Mike Umeh who is the first Vice President of NFF said.
The highest number of goals scored in a single game by one team is also the largest margin of defeat by any team and it was the Game between Arbroath and Bon Accord in 1885 where the score was 36-0 . The goals glut if allowed by NFF, definitely, would have shot the teams into the history books.
Group Sports Editor, Onochie Anibeze was alarmed yesterday and asked repeatedly if the goals were scored with legs or hands. He said that match fixing was a criminal offence and that those involved should be investigated and prosecuted.
Also stunned by the massive scorelines, NFF's Director of Competitions, Dr. Mohammed Sanusi assured that the Organising Committee would punish all persons and institutions indicted by the investigation.
"For now, all the match officials are suspended. The teams involved, their players and officials, coordinator and anyone found to have played some role in this despicable matter would be severely dealt with," Sanusi angrily said.