By Rotimi Fasan
YOU only get to see one even if there are many more living out of public glare in semi-retirement. We are talking here of executive wives, women married to men of means and ways- inflated balloons turned power houses by virtue of straying into the corridors of power either by the imposition of powerful brigands misnamed godfathers or rigged elections.
From the presidency down through the state to the local councils, these crops of women of no consequence whose only claim to glory is on account of their connections to political men manage to flaunt their emptiness in the face of those they consider less fortunate members of society.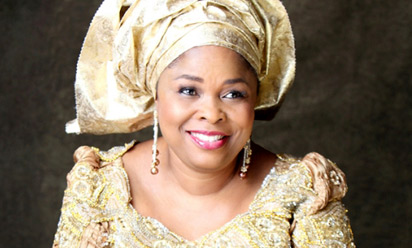 By their public posturing, monogamy seems the preferred way of Nigerian leaders, be they soldiers or civilians. But for one or two odd cases who, perhaps for reasons of quiet acceptance of their polygamous status, respectfully kept their many women back in their out-houses, far from the presidential palaces, choosing to run a 'bachelor' presidency, all other Nigerian leaders have pretended to be monogamous.
They introduce to the nation and indeed go around with only one woman, even if this is the latest and youngest addition to the ever-expanding harem. Most times this one woman has a larger-than-than-life persona, living the joint splendor and attention of all the other unacknowledged women combined, and this not for reason of any worthy achievement.
Often it is for the very absence of any worthy achievement beyond the tolotolo puffing that comes with the awareness of being close to power that these women stand out. This is the disgusting paradox of an unknown quantity, a puff of wind that proclaims its presence by its very worthlessness.
It is the nature of our executive wives. Just one of such in the house of a political husband is more than enough to enact for the sheer madness of it the bitter rancour of a polygamous household. One such wife is often too many for a man- indeed one like President Goodluck Jonathan whose wife seems to have convinced herself she has better uses for power than her husband.
Patience or Pepe as her friends in the waterside areas of Okrika would most probably call her is obviously thick-skinned. Pity then that she is the wife of the President. The country needs a sensitive, perceptive woman able to take a hint and recognise the limit of spousal misconduct.
Just when you think this woman has been sufficiently chastened by the welter of public criticisms that followed her recent misbehaviour and abuse of state power in Lagos through to Rivers, just when you imagine that the series of editorials, columns and verbal condemnations have served their purpose, there you see the wife of the President out with another faux pas, evidence of her naivety in matters political.
Indeed her case reminds one of the necessity of compulsory orientation for political spouses, men and women whose spouses occupy public office.
It is obvious this doesn't happen for immediately these public office holders get into office they become all-knowing and are treated as such even if only the day before nobody reckoned with them.
Even in our local communities, new occupants of an office, say a traditional ruler, have period of seclusion before formal ascension, time during which they are oriented to their new office, informed of the expectations of their position, the dos and don'ts.
And this extends to their immediate and extended family. An aside: In the early 1990s an episode played out before me in which the wife of the newly-crowned ruler of my town was chastised openly by a man when her son held her across the shoulders in the affectionate fashion common between today's youngsters and their parents. Not even the Olori's (King's wife) explanation that the young boy (a fact the man obviously knew) was her son would satisfy the man.
For him the traditional taboo that no man openly displays such affection to the wife of the king holds even with family members.  Perhaps the young man could do that in the confines of the palace but not in the full view of the world! We are talking here of modesty. The kind which makes Wole Soyinka asks that President Jonathan's wife seek first to be a lady before being a 'First Lady'.
Talking of which, I can't recall seeing a photograph of the Queen of England openly kiss the Duke of Edinburgh or any member of the royal family for that matter. Have you? If not, then the same principle that held in Ondo probably holds in London!
What business has the President's wife issuing a press statement through a spokesperson, a hired scribbler suddenly filled with a sense of self-importance, purporting to respond 'in kind' to her critics? If one could understand Reuben Abati or even Doyin Okupe responding to the President's critics or simply explaining a point involving the President, what do we make of the President's wife issuing similar statements through her so-called office? In what capacity is she speaking? She went on to give what a respondent to this column last week has called 'her side' of the story, pertaining to her disagreement with Rotimi Amaechi over demolitions in parts of Rivers State.
What side does she have in this? We are talking of the constitutionality of her position! She can speak and express her disagreement with a state official as a Nigerian citizen, even as an indigene of Rivers State. But she must do that as a private citizen; not corral the apparatus of state power to prosecute a private agenda or simply showing off- blocking roads and impeding traffic, openly holding meetings with persons known to be opposed to the state governor,  where she is not making frivolous statements about the person of the governor.
This issue is not about the rightness or otherwise of Amaechi's politics, not about his alleged fraternizing with opposition elements or his Governors' Forum issue with Jonathan or the PDP or rumoured presidential ambition; it is about the mode of engaging him on these matters and who is doing that.
Prior to her husband's presidency, how many times did Patience Jonathan take on her new-found activist role? Only months ago she was lamenting the fact that her husband had been reduced to reading newspapers in office, as she sarcastically put his sidelining by Turai Yar'Adua and Co in the wake of Yar'Adua's ill-health. But now she's grown to challenge a governor in a state he has constitutional right to govern- all because she is the wife of the President. Yeye dey smell!