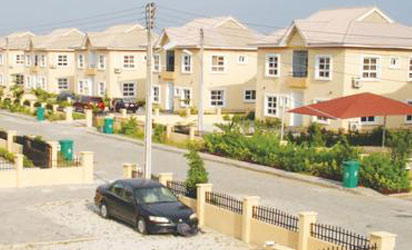 A Housing Estates in Lagos
By YINKA KOLAWOLE
The lack of a robust mortgage financing system in Nigeria has made rate of home ownership in the country one of the lowest in Africa.
Managing Director, Federal Mortgage Bank of Nigeria (FMBN), Mr. Gimba Ya'u Kumo, stated this at the 6th annual Abuja Housing Show and Housing Development Awards. He said Nigeria's homeownership rate of about 25 percent is much lower than contemporary countries such as Singapore 90 percent, Indonesia 84 percent, Kenya 73 percent, Benin Republic 63 percent, South Africa 56 percent and Libya 41 percent while that of the United States is put at 70 percent.
Ya'u Kumo noted that mortgage credits account for less than 5 percent of total lending portfolio of Nigerian banks and just about 13.5 percent of mortgage lending by primary mortgage banks (PMBs). According to him, the Central Bank of Nigeria (CBN) supervision report 2008 reveals that 90 percent of housing developments in Nigeria are self-financed through personal savings for periods upwards of 10 years. He noted that housing not only satisfies the basic human need for shelter, but it's a key component of economic growth and development.
The FMBN boss asserted that provision of housing is a key driver of economic development, and forms a substantial part of the Gross Domestic Product (GDP) of most developed countries, adding that the demand for housing in Nigeria is significant and growing at a fast pace.
"The supply gap for low and middle income groups is huge, reaching a crisis level in some cities in the country, which is heightened by the rapid urbanisation of the population." He noted that the World Bank has predicted that the housing problem in Nigeria will become even more acute, resulting in a housing crisis by 2020 if adequate measures are not taken.
Ya'u Kumo recalled FMBN's mandate as the sole secondary mortgage institution in Nigeria responsible for encouraging the emergence and growth of viable secondary mortgage market to service the needs of housing delivery in all parts of the country. In line with the mandate, he said the bank has been mobilising domestic and foreign funds into the housing finance sub-sector, while also collecting and managing the NHF in accordance with the NHF Act for the purpose of providing affordable homes to Nigerians.
He declared that FMBN has developed e-collection platforms as well as instituting the informal sector housing cooperative scheme, as part of recent innovations and strategies by the bank aimed at bridging the housing gap in the country. He explained that the NHF e-collection platform was an IT-driven collection platform recently launched to capture NHF contributions using IT infrastructure of all commercial banks.