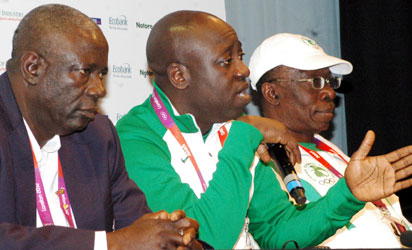 L-r, Engr. Sani Ndanusa, President, NOC, Mallam Bolaji Abdulahi, Minister of Sports and Chairman, NSC and Dr. Patrick Ekeji, Director General, NSC at a press briefing addressed by the minister on the performance of team Nigeria so far in London. Photo by Sylva Eleanya.
Minister of Sports and Chairman of the National Sports Commission, NSC,  Mallam Bolaji Abdullahi yesterday directed the Nigeria Football Federation, NFF, to ensure that all football clubs participating in various football leagues in the country pay the backlogs of salaries owed players.
According to him, teams that are unable or unwilling to pay should be barred from participating in the leagues as from next season. This was one of the outcomes of the meeting the Minister had with the Board members of the NFF, the League Management Company (LMC) and the Nigerian Women League. The meeting focused on the state of the leagues.
A visibly angry Abdullahi said at the meeting, " this has to stop. We cannot behave as if we live in a jungle. Every kobo owed the players must be paid.
Players must have proper contracts." He made these comments against the background of a news report about the FCT Queens of Abuja players who are owed 18months salaries and who, according to the report, have resorted to begging to make ends meet.
Dilichukwu Onyedinma, the Chairperson of the Nigerian Women League and who incidentally is also Chairperson of the FCT Queens, explained while making a presentation at the meeting that the players had not been paid because of bureaucratic bottleneck.
She however stated that the FCT Minister, Bala Mohammed had approved the salaries of the players but didn't know why they had not been paid.
Onyedinma disclosed that though the Nigerian Women League faced many challenges, it is making steady but slow progress. " For the first time ever we have started the first Women Premier League in Nigeria," she said.
Nduka Irabor, the Chairman of the League Management Company, stated that the LMC is putting systems in place to ensure that clubs pay sufficient attention to the welfare of footballers. " I have pictures of the living condition of some of our footballers, it is shameful and makes mockery of the professional league. It is no wonder that our players keep going overseas to seek greener pastures."
He however stated that the LMC was considering several measures to improve the welfare of footballers including implementing a minimum wage.   "By the rules, no club should pay a footballer less than a hundred thousand Naira."