JOHANNESBURG – Nelson Mandela is responding to treatment but still in a critical condition, South African President Jacob Zuma said Wednesday after visiting the global peace icon in hospital.
Zuma's comments came after one of Mandela's nephews told AFP that the former president was conscious.
"We are encouraged that Madiba is responding to treatment," said Zuma, referring to the anti-apartheid hero by his clan name.
Zuma added the 94-year-old is remains in "critical but stable" condition after more than one month of intensive hospital treatment.
He urged the public to continue "showering him with love which gives him and the family strength".
Mandela was rushed to a Pretoria hospital on June 8 over a recurring lung infection.
Buyelekhaya Dalindyebo, who is one of Mandela's nephew and king of his Thembu tribe, told AFP Wednesday the former statesman was "conscious".
"He could not talk, but he recognised me and made a few gestures of acknowledgement, like moving his eyes," said Dalindyebo.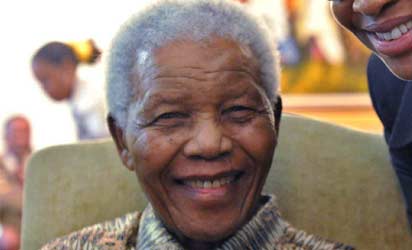 Doctors are said to have ruled out turning off Mandela's life support machines unless there is serious organ failure.
Court documents filed on behalf of the family last month described Mandela's condition as "perilous," with one claiming he was in a "vegetative state".
According to friend Denis Goldberg, doctors had considered turning off his life support, but decided it was not warranted in the absence of organ failure.
It is Mandela's longest hospitalisation since he was released from prison in 1990.
Madiba's hospital stay has been overshadowed by a bitter family feud over the reburial of his three children.
Their remains were exhumed from the family graveyard in rural Qunu in 2011 by the ailing icon's eldest grandson Mandla, and reburied in Mvezo — where Mandela was born.
Last week, 15 members of the Mandela family led by the Nobel laureate's eldest daughter Makaziwe successfully sought an urgent court application forcing Mandla to return them.
The family has opened a case of grave tampering against Mandla, who is a traditional chief in the Mvezo village.
The spat prompted an impassioned plea from Archbishop Desmond Tutu, asking the family not to "besmirch" the peace icon's name.
He said it was like "spitting in Madiba's face".
Meanwhile, messages of support continue to pour in for the man regarded as the father of democratic South Africa.
In a recorded message, the Dalai Lama expressed his "admiration about the great man Nelson Mandela".
Members of the public including politicians have also been posting messages on the wall outside the hospital and leaving flower bouquets on a daily basis.
Security at the hospital remains tight, with police searching vehicles entering the premises.
South Africa on Thursday commemorates 50 years since the police raid on a Johannesburg farm where top leaders from Mandela's African National Congress were arrested.
The evidence from the raid led to his 27- year-imprisonment.
After his release Mandela led negotiations to dismantle the white-minority regime and became the country's first black president after all-race elections in 1994.
South Africans are preparing to celebrate his 95th birthday on July 18.
The day is dedicated to doing good deeds for others, in honour of Mandela's selfless struggle.
Several international personalities, including Sir Richard Branson, Bill Clinton and Tutu have voiced their support for what is known as Mandela Day.(AFP)