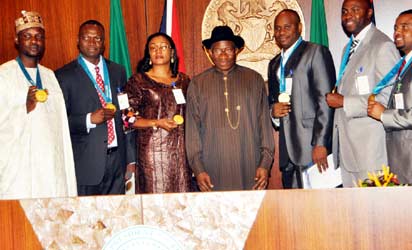 President Goodluck Jonathan (centre) with the 4×4 Men's Relay Team at the 2000 Olympics in Sydney
President Goodluck Jonathan on Wednesday honoured the Nigerian 4x400m men relay team that won gold at the Sydney 2000 Olympics.
The team only recently got its gold medal after Olympic organisers stripped the former winners, USA, of the gold medal.
Each of the six team members, led by late Sunday Bada, got N5 million while their two coaches got N7 million each.
All of them are also to get National Honours soon, the president promised.
The reward comes 13 years after Nigeria's participation in the Sydney Olympics in Australia.
The team members include late Bada, represented by his wife; Clement Chukwu; Jude Monye; Fidelis Gadzama; Aniefiok Udobong; and Nduka Nwanze.
Bada's wife was full of tears throughout the short ceremony.
Their handlers, that got the N7 million each, are Innocent Egbunike and Solomon Abari.
The team had initially won the Silver medal in the Olympic Games, behind the U.S. The medal was recently upgraded to Gold by the International Olympics Committee after the United States team was stripped of the Gold medal following doping charges.
A member of the U.S. team, late Antonio Pettigrew, had confessed to having taken performance enhancing drugs at the time of the games.