By Henry Umoru
ABUJA- SENATOR Ahmad Rufai Sani, ANPP, Zamfara West Wednesday said that under the Islamic law, a girl was considered ripe for marriage based on her physical and mental maturity and not necessarily age, just as he stressed that situations could arise where a very big girl was ready for marriage at age 14, 15, 16 as obtained in other countries.
According to him, the 1999 Constitution does not in any way provide for any specific age when a girl could be married, but was quick to add that the same constitution stipulates that any girl aspiring to be married must attain a full age.
Speaking Wednesday in an interview on the 'Kakaaki' aired programme by the African Independent Television (AIT), Senator Ahmad Sani who denied backing the child marriages during the clause by clause voting on the report of the Senator Ike Ekweremadu led Constitution review, said insinuations that he supported child marriage during the exercise were untrue, misleading and however attributed that entire criticisms to what he termed, the handiwork of mischief-makers.
According to him, the constitutional provision in the 1999 Constitution was in consonance with the Islamic law which states that for a girl to be married, she must have attained the age of maturity and puberty, adding, "What is the criteria for defining maturity or otherwise of a girl?
''The Nigerian constitution didn't say 18 years. There is no definition in the Nigerian constitution; any woman who is married is of age. You see in Islamic law, once a girl reaches the age of puberty and she is matured she is of full age and she is ready for marriage.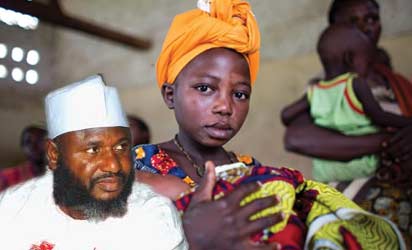 "And once she is married, she is of full age. And that is why the constitution recognises Islamic law and made that provision. So if you say you are going to remove that provision, you are going against and counter to Islamic law.
"So under Sharia law, any country that practices Sharia, age is not a defining factor for marriage.''
Commenting on international conventions that pegged the age at which a girl can be married at 18 and to which Nigeria was a signatory, the former governor of Zamfara State noted that such international conventions were inferior to the constitutional provisions of the affected country, adding that once a convention was in conflict with the constitution of any country, the constitution naturally must prevail.
Substantiating his argument, the lawmaker  explained that the United Kingdom which is a signatory to the same convention, an age limit of 16 to be eligible to engage in sexual intercourse.
"Today as I am talking to you now let me tell you the consent for girls to have sex is 13 and 14. In Spain it is 13. They all signed these conventions. The conventions are not anything to go by once your constitution makes provisions.
"Under sharia law, you have to be physically and maturely developed.
So if she (a girl) is not the age of 18, Islam does not accept child marriage as you define it. Child marriage is a girl that is not matured, has not reached the age of puberty, she is a minor and it is not age. You can have a very big girl who is ready for marriage at age 14, 15, 16 just as is obtained in other countries. Maturity is defined by her physical appearance, by when a girl starts menstruation for example, she is matured.''
Senator Sani who also said that under Islamic law, a widow has the right to inherit the property of her late husband no matter her age, declared that "in fact, there is a formula (written); you see as far as Islamic law is concerned Islam has a code of conduct. It has every provision.''
The Senator who gave an example of his first wife who was 16 years when they got married her at the age of 16 and his second wife, an Egyptian, who was 14 when he married her, said, "It is not the age as far as Islamic law is concerned, it is the maturity and age of puberty.
These issues are all matters of faith. As I said, some people are talking out of ignorance or out of sheer mischief. I am a Muslim and Nigeria is a multi-religious society. That is why our constitution makes ample provision for Sharia law, common law and for customary law.
"So we are expected to live together, appreciate the differences we have and understand ourselves. I should respect the views, aspirations and feelings of Christians and the Christian is expected to respect my own religious faith. If I believe in something and this is the doctrine of Islam, I mean a non-Muslim should not bother to find out why I should believe in that.
"Recently, I saw in Al Jazeera that the present Pope said gays should be allowed freedom in society, whatever it means but the Chairman Christian Association of Nigeria (CAN) said he was going to march to the Senate if we approve gay marriage. So these are matters of interpretations.
"In Islamic law, we don't have problem of interpretation, we have a written law and from the inception of this law every item is clearly defined.
"So in Nigeria today, what is lacking is people do not understand their laws. Some people thought that Senator Yerima  decided to introduce new things into the constitution, not knowing that this item is in the constitution. Those who put it there were very sensitive on the issues of our faith – as Muslims and they respect our feelings and  aspirations of Muslims.
''If you remove the definition of full age, you remove the woman. Like I said if a Moslem woman marries somebody who is not a Nigerian and you want her to live with him, with his own family with the children they have in his own country and you want her to be a citizen of his country and the country does not accept dual citizenship and she is not a kid and you do not make that provision for women; married women what does she do?
"She should wait in Nigeria until she is 18, even though she is married? So it is not even the issue of marriage, not the age of marriage but people are changing the debate to be talking about the marriage of minors.
"Islamic law does not accept for the marriage of a girl that is not matured, a girl that is not of age. This is where we have problem. Islamic law does not recognise age. We recognise maturity and puberty and you can see this from the physical appearance of the girl.
Maturity of mind, maturity of body, maturity of size, everything put together. It is not because of age.
"When I was looking at the UK law they put the age of consent for a girl to have sex or boyfriends at 16; for a homosexual they started with 21, they reduced it to 18, now they are reducing it to 16.
My argument is that somebody who is not a Muslim would not appreciate what is Islamic law. In Islamic law, we don't use our sense to say well this is what we have to do. We are all guided by what our creator has said we must do. As far as we Muslims are concerned, we have no option, no choice.
"The Child Rights Act based on the Second schedule, Part 1, Section 61 is unconstitutional in relation to Islamic law and customary law. An Igbo woman who marries based on tradition and culture cannot be
prosecuted under the Child Rights Act because the constitution specifically said the National Assembly can make laws for the formation and annulment of marriages excluding marriages under Islamic law and customary law because Islamic law has some specific rules and regulations.
"The Child Rights Act affects only those who conduct their marriages under common law in Nigeria today. The right is valid, it is constitutionally enacted but it affects only when you go and conduct your marriage in the church.''