BY EVELYN USMAN, IFEANYI OKOLIE & UJU MBANUSI
The kidnapped Briton, Dickson Lee, who was rescued Sunday afternoon by the police at Ago-Okota, in Isolo area of Lagos State, has returned to his home country.
Lagos State Commissioner of Police, Umar Manko, said in his office, yesterday, that the rescued Briton was allowed to go home when it became obvious that he needed urgent medical attention.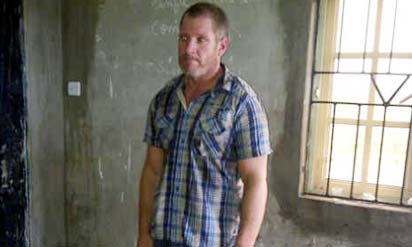 Manko also added that the officer in charge of the Special Anti-Robbery Squad, SARS, also led a team of operatives to the kidnappers den, where they recovered two fully-loaded AK-47 rifles magazine and one locally-made revolver pistol, with seven rounds of live ammunition.
Manko said: "There was a case of kidnapping of one Dickson Lee, a Briton, initially reported at Area D Command, Mushin, Lagos.
"I directed that the case be investigated by the State Intelligence Bureau, SIB, and SARS.
"We were informed that the victim boarded a KLM Airline from Amsterdam to Lagos via Murtala Muhammed International Airport, Ikeja.
Kidnap, ransom, rescue
"The victim, who was driven in a black Sports Utility Vehicle, SUV, was attacked and abducted by unknown gunmen on July 16, along Airport Road Mafoluku and taken to an unknown destination.
"We encouraged the relatives of the victim to negotiate with the kidnappers, who demanded a ransom of one million dollars. The kidnappers later agreed to a N7.5 million ransom and men of SIB and SARS proceeded to the drop point at Satellite area along Lagos-Badagry expressway.
"One of the kidnappers, Emeka Benson, who came to receive the ransom was arrested. Another suspect escaped with bullet wounds. The arrested suspect also led the detectives to the kidnappers' hideout, where the Briton was rescued."
How I was arrested— Suspect
Explaining how he was arrested, the suspect, Chukwuemeka Benson, 27, who hails from Ohafia in Abia State said: "A friend of mine, Nonye, introduced me to one Ugo, one of the kidnappers. Nonye is a security man at the uncompleted three-storey building where the white man was kept.
"He told me to help him collect money from owner of the building somewhere around Okokomaiko, with which to floor the ground.
"I went in the company of Ugo, who rode a motorcycle at about 1pm on Sunday. When we arrived the designated place, in front of a warehouse, we saw a car parked.
"Ugo told me to stretch forth my hand to collect the money immediately we got close to the car, warning me not to come down.
"But as I stretched my hand to collect it, one of the occupants held my hand tight, thereby, forcing me to come down from the motorbike. As Ugo wanted to alight also, another occupant shot him.
"I just stood at the spot unsure of what to do while Ugo managed to escape.
Asked if he was not aware of the Briton's abduction, Chu-kwuemeka said: "I only saw the victim on Saturday night and when I asked Nonye, he told me to mind my business.
"I only agreed to go collect the money because he promised to give me N200,000 out of it as loan to enable me start business afresh because my goods were seized two weeks ago by Customs on my way from Cotonou.
"I did not know I was being used as a bait by Nonye and his members."
Recovered
Following his arrest, Manko said he led operatives to the kidnappers hideout in an uncompleted three-storey building somewhere around canal area of Okota, where the Briton was rescued.
Recovered in one of the rooms were two locally made pistols and 12 live cartridges.
Manko exonerated the Command from any blame in reported cases of kidnap, adding that kidnappers' major instrument of advantage was timing.
He said: "But if you keep faith with the Police, we assure you that we will get the kidnappers and rescue the victims," adding that efforts were on to arrest other fleeing members of the syndicate.