By Tony Ubani
Super Eagles coach, Stephen Keshi's olive branch to out of favour Osaze Odemwingie and captain Joseph Yobo to rejoin the national team has hit a sour note with former chairman of the Nigeria Football Association, NFA, Kojo Williams telling him to drop the idea.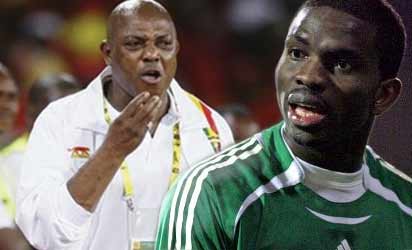 "Keshi should forget about recalling Osaze and Yobo. He should be wary of polarising the team. He has a very good team at the moment. The boys that I saw at the Confederations Cup were mentally and physically strong. What the team lack is basically technical and tactical.
It is not about bringing new players. That is why I said that Keshi needs help. He is a fantastic coach but all good coaches have experts who work with them to achieve results. Westerhof brought Jo Bonfre. Look at the Brazilian bench. Felipe Scolari has Luiz Pereira. Keshi will still remain the boss of the team".
Keshi had said that Yobo was still his captain after the exit of the team at the Confederations Cup in Brazil and assured that he would open the doors for Osaze Odemwingie.
"For Osaze, he still has a place in the team."I'm not looking for an apology from him. Osaze is somebody that I like very well and he knows that. The thing is, it's about the team that I'm worried about.
I don't want to have a player that will come in and divide the team, or who will destabilize the team, because when the team is not together, it becomes very difficult to win.
I'm not saying he is going to come in and do that, but a little bit of what he has shown has told me that this is possible."I really want to have him in the team, and I would like to give him another opportunity", Keshi said.
As for Yobo, he should not worry about him. Yobo is old and the guys in his position are doing well. He knows better about Osaze and should not succumb to pressure to scatter a good team he has built", Kojo emphasised.