BY Kingsley Adegboye
An indigenous developer, Messrs Nekonini Business and Properties Limited, has concluded plans to flag off the construction of the second phase of Maccido Royal Estate, located at  the Galadimwa District of the  Federal Capital Territory, FCT, Abuja.
The residential housing project which received approval from the Federal Capital Development Area/Development Control, in May 2013  comprises 76 units of what has been described as "Green Building" by the developer.
The project which consists of 26 blocks of 3-bedroom detached duplexes and 50 units of block of five-bedroom detached duplexes is estimated to cost N2 billion. The estate which will be built on a 20 -hectres parcel of land, is being funded by Skye Bank Plc.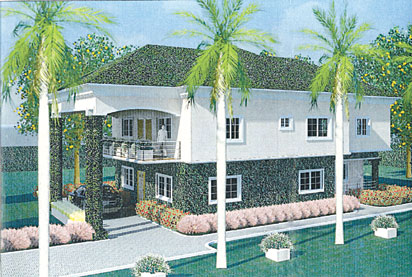 The project which is billed for completion within the next 12 months, has facilities like peri-meter fencing, pipe borne water supply, alternative power supply to complement Power Holding Company of Nigeria, PHCN and road network within the vicinity.
"The main feature of the project, based on the recommendation by the FCDA is that the area reserved for garden and other green area as contained in the approved site layout shall be built up in the future and at least, five trees must be planted within premises to protect the environment",  Mr. Niran Sule-Akinsuyi, Chairman, Nekonini Business and Properties Limited, said.
According to him, the philosophy behind green building is based on the fact that  resources available are lean while more and more people are in need of them. "If we want our future generations to enjoy the same standard of living we have experienced, we need to take action. For example, Americans believed that green is a great place to start, as buildings consume 14 per cent of potable water, 40 percent of raw materials, and 39 percent of energy in the United States alone according to the US Green Building Council. That is, 15 trillion gallons of water and three billion tons of raw materials are required each year.
"So in Nigeria, we want to make the country a better place and this could be achieved by implementing green practices into our homes or offices. This can help reduce waste, conserve natural resources, improve both air and water quality, and protect ecosystems and biodiversity', he said.
Sule-Akinsuyi disclosed that the first phase of the project had been completed and completely sold out, adding that there is provision for mortgage facilities. For prospective buyers.. "For the phase one project, customers accessed mortgage facilities from Sun Trust and Federal Mortgage Bank of Nigeria, FMBN. So, we assure the would-be buyers that they may avail themselves of the same opportunity".