By YINKA KOLAWOLE & EVELYN USMAN
•Unveils Police housing estate in Lagos
The Federal Government is committed to improving the welfare of security personnel in the country to encourage them carry out their duties more effectively.
President Goodluck Jonathan gave the assurance, yesterday in Lagos, at the commissioning of a housing estate built in Idimu, for officers and men of the Nigeria Police on owner occupier basis, named 'Goodluck Jonathan Housing Estate'.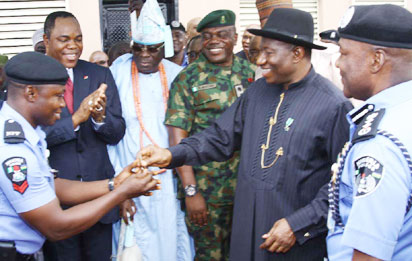 "It is noteworthy that for the first time in recent memory the Nigeria Police Force, through its own efforts and initiatives, is working hard to improve welfare of its men through housing. We commend the Inspector-General of Police, IGP, Mohammed Abubakar and his team and the developers for fast delivery of the project, which the IGP told me took only eight months to complete.
"This estate represents another successful outcome of the public-private partnership, PPP, initiative of this administration to complement government efforts towards meeting the infrastructure needs of our people. With the successful outcome of this PPP initiative we are witnessing here today, I encourage other government organisations to partner with the private sector to meet the housing needs of their employees," he stated.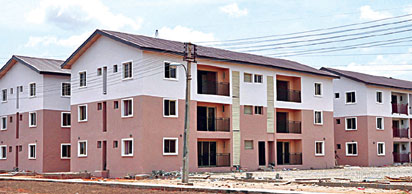 Jonathan said his administration placed a high premium on the provision of affordable housing in the country. He noted that this prompted the decision of the Federal Government to facilitate the establishment of a Mortgage Refinancing Company before the end of the year, for which the government has secured a $300 million (about N48 billion) liquidity facility from the World Bank.
The President said he agreed with the IGP that the provision of barracks for the Police and other security arms of government was very important. Recalling the recent renovation of a Police barracks, he said that it cost a lot of money to achieve but added that government would continue to mobilise available resources to continue on that path, in order to make life better for security operatives across the country.