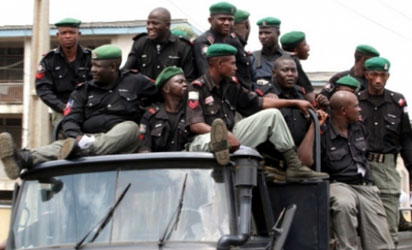 *File: Police
BY JOHN EGBOKHAN
A former Secretary-General of the Nigeria Football Association (NFA), Sani Toro has called for the resignation of the board members of the Nigerian Amateur league, under whose watch the incredulous 146 goals were scored in two games last week Monday.
As both Plateau United Feeders and Police Machine FC fought to reach the fifth tier of the Nigerian  Amateur  league, the two sides racked up 79-0 and 67-0 wins respectively.
Interestingly, at half-time, both sides had managed to score 13 goals between them, only for the high haul of goals to begin in the second half, as they tried to outwit one another on goals difference.
Their record on the field has turned Nigeria into a laughing stock in the comity of football nations and speaking yesterday to Sports Vanguard, Toro, who was the scribe of NFA during the glorious days of Nigerian football, blamed the scandal on the failure of the Amateur League body to closely monitor teams during matches.
"This scandal would not have happened in the first place if members of the Amateur board were on their toes. I have observed that the people running the amateur league have been aloof. If they were up and doing, they should have nipped the scandal in the bud. It also shows that they are not doing their intelligence gathering.
"They knew that two teams were fighting for promotion and yet failed to put everything in place to stop this embarrassment to this great nation.
If we were in a civilised environment, the chairman and his board members would have resigned. And since they have not done the needful, I urge them to resign so that proper investigations can be carried out", added Toro.
While describing the scandal as highly unfortunate and a dent to the country's image, Toro said he was impressed with the way the case was being handled by the NFF and the Nigerian Police, who he urged not to give into sentiments of having their team, Police Machines of Yola, involved in the match-fixing.
"This is a test of the impartiality of the Nigerian Police to carry out a thorough probe on their own and come up with an objective report, with the appropriate sanctions", said Toro.