By Tony Ubani
It's not every day that two football matches produce a cricket-like score of 146 goals.
As Nigeria Football Federation continues its investigation to unravel the culprits behind the 79 – 0 and 76 – 0 scorelines respectively recorded by  Plateau United Feeders and Police Machine FC, former Green Eagles Captain and later coach of the Super Eagles, Chairman Christian Chukwu has asked the soccer-ruling body to prosecute the offenders before they spill into the Nigerian Premier League.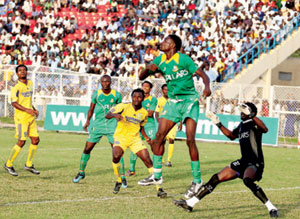 "I"ve never seen or heard of such outrageous scorelines in my life. It is unheard of and unimaginable that such things we hear or see on foreign news is happening before us.
The NFF should act fast to prosecute the offenders and send out warning signals to their likes. If not, negative things  that will bring our football to disrepute will spread like cancer", Chukwu who captained Rangers  to the Cup Winners Cup  triumph in 1977 said.
"They should save this beautiful game for us. Bad people and politicians are infiltrating it. It is only when bad people enter into football system that you begin to hear of such mind-boggling scorelines", Chukwu bemoaned.
The scores were the highest  in African football since Madagascar's AS Adema won 149 -0 in a 2002 match where losing side, State Olympique Emyme scored numerous own goals in protest at a refereeing decision.
''We've reported the matter to Police as it is a criminal matter", Chairman of the NFF Media and Publicity Committee, Chief Emeka Inyama told Sports Vanguard.
"They should follow it up. This is Nigeria. Before you know it, this case will be over without any punitive measure to the offenders". Chukwu said.
Nigeria has been on the front burner of the world's media since the goals glut as all attention waits on the NFF to come out with a decision on the perpetrators of this scandalous football scores.
146 goal scandal: It's a terrorist attack on Nigerian football – Pa Ojidoh
Veteran football administrator, Pa John Ojidoh has described the 146 goal scandal as a terrorist attack on Nigerian football and called on relevant football authorities in the country to descend heavily on the culprits without further delay.
In a message to Sports Vanguard, the former defunct Bendel State FA Chairman called on the Nigeria Football Association to hand bans to the players and referees involved in both matches.
"Ban the referee and assistants for life, hand club officials to the State Security Service and court martial the police officers in charge of Police Machine FC," Ojidoh said.
Continuing, the former referee said, "This is a terrorist attack on the image of association football."