Team Nigeria will take part in six sports at the Glasgow 2014 Commonwealth Games scheduled to take place from July 23 to August 3. This is authoritative.
Briefing the Executive and Board members of the Nigeria Olympic Committee, NOC, on Monday at the Boardroom of the NOC,  President Sani M. Ndanusa named the sports as Athletics, Wrestling, Weightlifting, Table Tennis, Boxing(male and female) and Para Sports.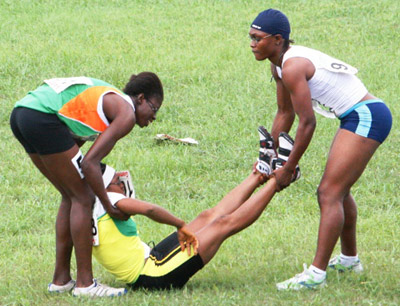 The Para Sports are in Athletics, Table Tennis and Power-lifting. There are 17 Sports on the programme for the Commonwealth Games.
They include – Athletics, Badminton, Boxing, Cycling, Gymnastics, Hockey, Judo, Lawn Bowls, Netball, Rugby Sevens, Shooting, Squash Rackets, Swimming, Table Tennis, Triathlon, Weightlifting and Wrestling.
Ndanusa said that as part of  preparations for the Games, a Nigerian delegation comprising of NOC and NSC officials visited Glasgow(June 18 to June 20) and met with the Organising Committee of the Games on vital issues relating to the Games.
He said that everything relating to Team Nigeria's successful outing in the Commonwealth Games was on track.
Also speaking, Technical Commission Chairman of NOC, Dr Daniel Igali dismissed fears that Team Nigeria were yet to start preparations for the Games. "All the Sports concerned are doing well. I can tell you that Wrestlers are preparing and will soon hit camp. It is not only when we gather all the sports that you think they are preparing. Serious preparation is on-going", Igali who is also the President of Wrestling Federation of Nigeria said.
Seven out of Eight Executive members of the NOC attended the meeting while 18 Federation Presidents of their representatives out of the 24 Olympic Sports attended.