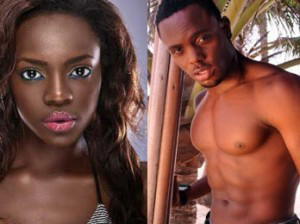 Ada Beverly Osu Melvin Oduah
In a test of African harmony – beyond just unity, – this week's Africa wide BBA eviction vote is the inter-regional popular battle you may never see again since the recent acrimonious AU inter-governmental election brought Nkosazana Dlamini-Zuma to the top office in Addis Abeba.
For the first time, there are only three on the eviction ballot and they are from the three most influential sub-regional blocks south of the Sahara: Elikem (Ghana, WA), Annabel (Kenya, EA), Sulu (Zambia, SnA). With inklings of geopolitical jostling and amid raging passionate and acrimonious debates online and on BBA TV news bar, plus with evident voting along national and sub-regional lines irrespective of housemates' personal qualities, Africa is thus put to test over which sub-region's population actually carries sway and how much that leaves of the continents diverse population feeling as one people.
Featuring in half a dozen of eight eviction votes so far, East Africa's Tanzania, Uganda and Kenya have consistently thrown their weight behind a refined but rather unentertaining Annabel. She's only pulled Ethiopia once. Though she has not really been tested against other strong East African housemates (Tanzania's Nando and Feza and Ethiopia's Bimp), other East Africans – LK4 and Denzel (Uganda) and Hudda (Kenya) – fell when at least two of them appeared on the same eviction ballot.
Likewise, Southern Africans Fatima and Natasha (Malawi), Koketso (SA), Hakeem and Pokello (Zimbabwe), Motamma (Botswana) and Maria (Namibia) were evicted when their country or sub-region crowded the ballot and split votes.
Generally, Southern Africa has shown signs of bonding with their numerical advantage (seven out of 14 country votes) behind Angelo (South Africa), Oneal (Botswana), Hakeem and Pokello (Zimbabwe) or Dillish (Namibia). That is besides inevitably scattering its votes when it has more than one country or sub-regional rep on the eviction ballot. Sometimes, its individual countries have also followed their hearts outside the sub-region.
West Africa has hardly really shown a block vote. Sierra Leone, Ghana and giant Nigeria have proven to be more akin to follow their hearts, scattering their votes sometimes as their representatives' amorous interests go. Well, not since the tirade by Botswana housemate Oneal and Zimbabwe's Pokello about West Africa's arrogance. That now seems to caused West Africa to rise up in arms, calling for Oneal's and Pokello's blood. Pokello may have already paid the price, especially losing Nigeria's vital vote.
This week, Ghana's Elikem can count on Sierra Leone, Nigeria and his home Ghana and, without a doubt, Zimbabwe, home country of his lady Pokello. That would give four sure country votes, at par with Sulu's Botswana, Namibia, Angola and his home Zambia. Annabel will thus trail them with only three.
It is not all cut in stone though. Observed sub-regional cracks and individual considerations mean Ethiopia, South Africa and Malawi may be swing votes and possible tie-breakers. Add to that Rest of Africa (ROA). Sulu would win a landslide of country votes if sub regional block voting prevailed through and through.
Ethiopia has been vacillating, not voting along with its East African neighbours. South Africa and Malawi may ignore sub-regional considerations. Malawi may hold Sulu responsible for the eviction of both Natasha and Fatima. He had verbal fights with both the week they were each evicted, but even worse, he had nominated Natasha. In as much as many understand it is just a game, Malawians may not take it lightly that Sulu spat on Natasha's sisterly care. She would advise him against the risk of expulsion, caution him during his drunken fights, comfort him when in distress and give him a massage. Malawi may not have to think too hard to decide to throw that vote to Elikem, somewhat their in-law for Fatima.
South Africa, the sub-regional leader whose influence and numbers could carry sway, may also turn its back on Sulu for swapping and throwing his professed buddy, South Africa's Angelo, under the bus. Rest of Africa has also been swinging but it won't be surprising if Elikem carried that vital vote thanks to Nigeria's mammoth migrant numbers across the continent that could also play on percentage average in case of a tie.
Those are the exceptions, but on the whole, battle lines are visible and they show East, West and Southern Africa at war, on clearer lines this week than it can possibly get.
By Franklin Sone Bayen