BY GBENGA OKE
Dr Jonathan Silas Zwingina, an accomplished academician,  administrator, politician and senator was Director-General of MKO Abiola's campaign organisation, Hope "93. In this interview, he opens up on the events of 20 years ago and the conspiracies that shadowed the annulment of the presidential election of June 12, 1993.
As a major actor in the election, what would you say happened?
I was not just a player but the Director General of the campaign and I organised the primary election and the general elections. I also worked very closely with the party structure of the Social Democratic Party (SDP) that time. What simply happened  was that we had the benefit of two party system introduced by the government of General Ibrahim Babangida and I must say that two party system is very vital in forging a viable democracy in any country. I am not talking about judicial, legalistic party system but a dominant two party system.
In June 1993, we had a two-party system which enabled us to have two major players but that was really a legislated two-party system where the law only allowed SDP and NRC. Our campaign machinery, 'Hope 93' campaigned all over the country and we had a lot of advantages. Firstly, our candidate, Chief MKO Abiola was a well known figure, he was known everywhere and he had touched several lives before the campaigns.
He was a philanthropist, he donated to building of mosques and churches across Nigeria, he built clinics, schools and was instrumental to various fund raisers for different communities. We found that throughout the campaign, the goodwill was enormous but I will say the military underrated that impact. The feeling the military had was that Chief Abiola and Bashir Tofa were going to play the classic Northern/Southern candidate where Northerners will not vote for a Southern candidate and  Southerners will not vote a Northern candidate, there will be a stalemate and the military will go on.
As it turned out, Chief Abiola did not only win landslide but had 25percent in 28 of the 30 states including Kano where Chief Abiola beat Bashir Tofa who is from Kano. To show that the military never wanted a conclusive election, the release of results was interfered with by agencies of the military, some concoction of judicial process was in place where a judge in the mid-night gave a court order even when the decree setting up NEC said it should not respect court order and Professor Humphrey Nwosu had disregarded several court orders because the decree did not allow the courts to interfere with the electoral process. Yet that court order, which was secured at midnight was  expected to be respected against the law of the land.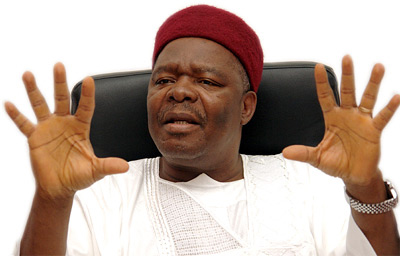 So it was said that the results had not been released but truthfully, the results were released. The release of the results was a process because all the states had the result, the only thing remaining was the final copy which was to be read by returning officer of the nation. Although Professor Nwosu has explained what happened, I feel he could have announced that result and perhaps faced some consequences. The nation could have a democratic challenge but the excuse that the results were inconclusive would not have been given. I believe he could have announced without waiting till some years later to announce the results in his book because the results were known to everybody.
Later as it turned out, some sections of the military wanted the results released  and wanted the mandate realised. We were involved in several discussions and I always accompanied Chief Abiola to some of the discussions. There were also some sections of the military that did not want the mandate realised and of course, they were deceptive. While talking with us, they were really behind the scene plotting the total subjugation of that mandate. As it turned out, the military had to annul that election because in reality, they never had plans to have a conclusive elections which is unfortunate.
How do you react that some of those around Abiola betrayed him?
I get surprised when people talk about betrayals because we have this penchant for people to become doctrinaire, create doctrine and begin to assign those who departed from it or not. Those who are shouting betrayals were actually the traitors because they never even voted in the election. About those who took part in Abacha's government that was a collective decision we reached in Chief Abiola's house because I was the one writing the minutes. It was a collective decision that in order to steer the ship of the new government in the direction of realising June 12 and handing  power back to Chief MKO Abiola, we needed to play a role.
In the company of Chief Abiola, we met and agreed to make a list of those who will participate in the government. They did not betray Abiola; it was a collective decision and it was part of that decision that I was pencilled down as a Minister but the government in looking for seniority chose Alhaji Bamanga Tukur  to represent Adamawa and I was now nominated as a Commissioner.
It was not my personal decision, all those ministers including Alhaji Jakande, he never wanted to be Minister, he actually nominated  Professor Agbalajobi. Chief Abiola had to personally beg Lateef Jakande to join the government. The same thing happened to other ministers from the South-West. After that, we put the list together and approached the government with it. At that time, the impression we were given was that the government will last for only six months and after six months, a process will be put in place to return the mandate to Chief Abiola.
The question Chief Abiola always put up to those who refused to join the government was, if you don't join the government, who is there to speak for me? He kept asking them and they could not answer. As a result of that, they will say, 'for your sake, we will go there to enable us raise the voice for June 12 when we are having meetings with government.' That was the atmosphere that time and to the best of my recollection and to my records, there was nobody who on his own walked away and became part of the Abacha government out of his own selfish ambition.
Although, I know a few leaders were eager to join they did not walk away on their own, instead they convinced the whole group to take that decision. It may have been a wrong decision but we took it based on the impression that we needed to cooperate with government in order for government to cooperate with us in realising the mandate after about  six months. If you remember, it was as if  in  six months something will be done and that was why Dr Onagoruwa accepted to be Attorney General. He was a very strong supporter of June 12. We felt if he is there and the law needs to be re-arranged to recognise June 12, he will play a prominent role on behalf of June 12 and that was why he was encouraged to accept.
These are some of the things that happened that time but later on, few writers, journalists and human rights groups, who are uninformed and in fact not major players began to re-direct and redesign who is a traitor and who is true to the cause. Later, other elements that were not even part of June 12 who fell out with Abacha were all seen as proponents of June 12. The people who fell out with Abacha were totally different from the June 12 struggle, they fell out either for personal reasons or for political reasons that are not related to June 12 and some of them eventually became the apostles of June 12. So there are  misconceptions that need to be corrected.
Lessons to be drawn from the 1993 elections
The lesson Nigeria should learn is that up till now, there is a sceptre of that election hanging over our democracy because we look back and think that somewhere along the line, we did not get things right. If we had gotten it right in 1993, we would have been far away from where we are now especially the culture of impunity because that annulment was the height of impunity where few individuals in government will take a pen and cancel what millions of Nigerians had agreed on. I think we need to learn not to over-ride the will of the people. The second lesson we should learn from that election is that we should not think we can deceive the people all the time, we cannot deceive all the people all the time, we may deceive some people but certainly not all of them all the time.