By Taye Obateru
More light has been shed on how suspected Fulani insurgents who raided some villages in Langtang South Local Government Area of Plateau State on Thursday engaged members of the Special Task Force (STF) maintaining security in the state in cross fire for over two hours.
Sunday Vanguard learnt that the apparently well-armed attackers in a show of power, took on soldiers of the STF who moved to the area following a distress call, but lost 20 men in the process.
It was learnt that the assailants, having had a field day at Magama where they killed 23 people and burnt several houses, moved to Bolgang where they killed eight people and were taking the onslaught to Karkishi when the STF members  halted their advance.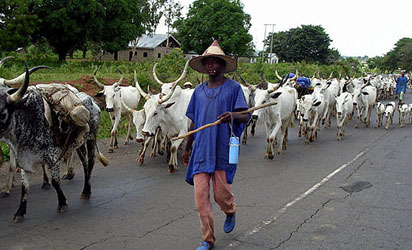 Sound of gunfire was said to have rented the air for hours forcing residents of the area to flee to safety. However, many of those who fled were said to have started returning by Friday following the activities of the STF which gave them some confidence.
Meanwhile, the state house of assembly has summoned chairmen of the six local government caretaker committees in the Southern Senatorial District over renewed violence in the zone.
Speaker of the house, Mr. John Dabwan, said the meeting would assist in finding a solution to the recurring attacks on the people in the local government areas.
STF Media Officer, Capt. Salisu Mustapha, had on on Friday confirmed that 28 people were killed by the attackers who also lost 20 men during the cross fire with soldiers.
He said the attackers later retreated to Yamini, Yelwal, Shendam and Agikamai villages in neighboring Shendam Local Government Area adding, "some who sustained gunshot injuries were arrested while some motorcycles, weapons and ammunition were also recovered."
In a related development, the Plateau State Commissioner of Police, Mr Chris Olapke, has said a special force would be put in place to fish out illegal arms and ammunition in wrong hands in parts of the state.
He stated this while briefing journalists at the weekend, expressing concern over the proliferation of arms which he believed was responsible for the frequent violence in the area.
He promised that the peace parley with stakeholders in Langtang North, Langtang South and Shendam would be sustained as a way of fostering peace.