By McPhilips Nwachukwu
THREE year old baby Fuji Onerrittta will for a long time remain a surprise to the world.  The story of  this infant prodigy's celebrated entry into the world stage of fame began last week when the Lagos culture space was drawn out to witness the making of history.
It was the occasion for the flag off of  three year old Onafujiri Rene Remet's photo exhibition at the Terra Kulture located at Tiamiu Savage, Street, Victoria Island.
The event tagged, A Media Introduction  was one significant moment that launched the brilliant photo works of  the only known world's youngest photographer to the public space.
Given birth to by equally very talented and creative parents: Augustine and Lilian Remet , both computer graphicist and painter, baby photographer, Fuji can be described as  a child  from a family of great artistic tradition going by the exploits of his equally two other siblings.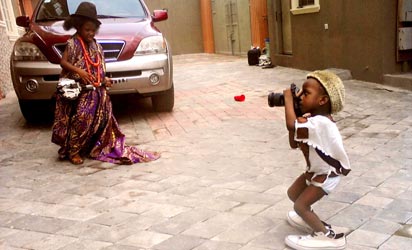 Some years ego, Fuji's senior sister, Onaritta , equally surprised the world, when at age  fourteen months she held her own  surprising painting exhibition that also startled the visual art community.
This same feat , some years later, was equally repeated by his second sibling, Onatteni, who also exhibited at age eighteen months.
These  unmatched exploits have greatly branded the Remet's family as one of the  world's youngest exhibiting families.
As  Fuji's great exploit is being wired across the world through the interface of  the international media and other forms of socio media, tongues are beginning to wag and questions being asked  regarding  the authenticity of Fuji's parents claims to ownership of  shots. This reporter is  equally among those, who doubted the professional ability of  a three year old to handling a high density camera capable of capturing the kind of shots displayed at the show.
But like many other doubters, I was  proved wrong.
Two days before the exhibition, Fuji's parents on my insistence dared heavy rain fall and drove their son from their Magogo Lagos home to Festac where the little boy gripped by rain cold and sand-witched between his two siblings was brought to convince me that there is a Fuji. And Two, to demonstrate that he really took the shots.
Seeing the innocent taciturn looking  baby. I was further taken aback. He looked up from the wound glass of his father's car and scanned my face as I said:"hello Fuji?"
And his father took over: "He hardly talks. But he is very intelligent. Suffice it to say that what we are witnessing today is built on strong foundation.
Before my wife and I got married, we promised ourselves that we were going to give our children the best if God ever gave us Children.
On the day Fuji was born. He was given birth to at 12 minutes after twelve in the afternoon. A very symbolic moment one' d say. But beyond that, there was no other symbolic thing about his birth.
But we  knew that every child is coming into the world with great promises and capable of doing great exploits if the conditions are created.
"So,  this exhibition  showcases a collection of Fuji's photographs since he began to express himself with camera."
The photographs are taken along busy streets and captures Fuji's passion for mobility." He further  explained.
Continuing he  said that Fuji's exploits  are a lesson to parents and Nigeria and underscore the importance of solid foundation for not only the development of the child into better adult but also for better and strong corporate health of the nation.
According to him, "Society can only achieve its corporate dream from the quality of people it has, and this starts with the values we are able to create in our children.
We have taken this dream this far to inspire early parental attention from parents to their children." Continuing he said : " As we speak, world acclaimed photographer, Pa Ojeikere, has taken it upon himself to serve as a mentor to Onafujiri."
Surprisingly, Fuji's photo shots bear the imprint of a professional. Besides his poses, which are equally captured by another camera man, there is a certain shade of light that marks a stamp of professional difference on his  shots.
From  what one saw at Terra Kulture of Fuji's works, it may not be too early to conclude that  a great photographer has been born.