BY MONSUR OLOWOOPEJO
Barely one year after drug peddlers and addicts sacked teachers and pupils of Oremeji Primary School, Ajeromi-Ifelodun Local Government, the state government is yet to reclaim the public infrastructure from its strange occupiers.
It will be recalled that Vanguard Newspaper had in 2012 raised concerns over the state of the school that had since been turned into full time joint for the sale of narcotics.
When Vanguard visited the school at the weekend, the school building which is one of the State's millennium schools was yet to receive any upgrade as promised by the government.
Last year when the officials from the state government visited the school, they assured teachers and pupils that the government would reclaim the school and reconstruct it for proper usage.
Vanguard gathered that the space left unoccupied in the two-storey building last year by some religious outfits have been turned to full residential apartments.
While the government was still busy considering how to reclaim the school structure and premises, land speculators haven't relent, as they have further sold some portions of the school premises for about N100, 000 per plot.
It was also gathered that areas left unclaimed by the speculators have been converted to refuse dump by the residents.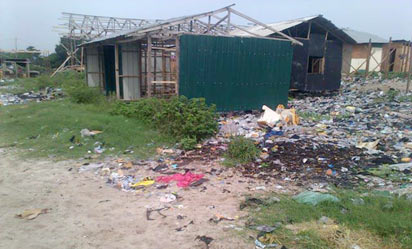 Vanguard learnt that the school premises have also been converted into a parking lot for abandoned vehicles. One of them was an articulated vehicle with Kwara state registration No. XA 684 FFA.
Mr. Gbenga Adebayo, a resident of the Tolu community, said that the school was abandoned for security purposes.
Adebayo said "I have a son in the school. And when we-parents, realised that the activities of the drug addicts and peddlers who have taken over the building will not only pose threats to the security of the students, but also lead to stealing and vandalizing of valuable school property, we decided that they should vacate the building.
"And since then, we were expecting the state government to dislodge the illegal occupants of the building and reconstruct it for learning. But today, the government is yet to listen to our cry.
"Everyday, one illegal structure will spring up in the premises of the school. And this dampens our hope of reclaiming the school from its strange neighbours."