By Nnamdi Ojiego
AS far as residents of Ejigbo, Ikotun and other communities in old Alimosho Local Government Area of Lagos State are concerned, the government headed by Babatunde Fashola has been most unfair to them with respect to the provision of infrastructural facilities, especially roads.
They told Vanguard: "It is as if this area is not part of his administrative constituency of Lagos given the ordeal and untold hardship we are exposed to on a daily basis due to little or no government presence here."
In the last three weeks, motorists and other road users have been literally passing through hell. They spend an average of five hours trying to get to Cele Express or Oshodi and vice versa due to bad state of the only road that links over 20 rural communities in the area.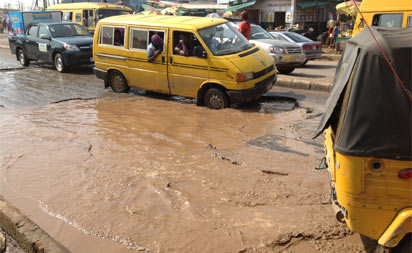 The road which link Ijegun, Egbeda, Idimu, Isheri, among thickly populated rural communities in the state has remained impassable any time there is little rainfall
Vanguard learnt that the area where flood was being channelled to was reportedly converted to a market by some powerful forces, thus creating unprecedented hardship for commuters.
A journey from Cele Express or Iyana Isolo to Ikotun, which normally took about 30 minutes when the road was free now take about five hours or more as motorists try to avoid the gullies at the Ejigbo junction (Iyana Ejigbo).
The poor state of the road has not only become a major cause of traffic gridlock in the area, it has also become a death trap.
A resident of the area, Mr Kayode Jegede, said that each time it rained, "the whole area becomes flooded, impeding movements of vehicles and other road users for days," adding that people stay trapped at night till the early hours of the following morning as result of traffic gridlock generated by the poor shape of the road.
The residents however, appealed to the state governor, Mr. Babatunde Fashola, to come to their rescue by rehabilitate the road and open up more link roads to ameliorate their sufferings and hardships they go through on daily basis.
They said the call for Fashola's assistance has become necessary as the Ejigbo LCDA boss, Mr Kehinde Bamgbetan has failed to live up to his responsibility as the chief executive officer of the council, particularly, in fixing the bad portions at Ejigbo junction.