By Henry Umoru
…Fundamentalism, corruption threaten democracy — Shonekan
ABUJA — FORMER President of Ghana, Flt. Lt. Jerry Rawlings, Monday said if Nigeria and other parts of Africa must get it right and strengthen democracy, corrupt politicians must not be allowed to go scot-free.
This came as former Interim Head of State, Chief Ernest Shonekan, declared that religious fundamentalism poses a serious threat to the  nation's democracy, including other parts of Africa.
According to Rawlings, Nigeria must not continue to pay lip service to eradicating corruption, especially against the backdrop that poor, petty thieves get imprisoned for several years, while businessmen evade taxes in millions of dollars and politicians embezzle state funds and go unpunished.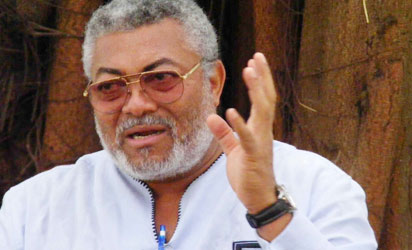 Speaking yesterday at a conference on Emerging Democracies in Africa: Challenges and Opportunities, organized by the National Institute for Legislative Studies, Abuja, Rawlings said: ''We cannot continue to pay lip service to the strengthening, empowerment and independent management of our multiple anti-corruption institutions.
"We live in countries where poor, petty thieves get imprisoned for several years, while businessmen who evade taxes in millions of dollars or a politician who misappropriates millions of state funds escape punishment.
"These inequalities are recipes for the retrogression of our democracies and we cannot allow the negative tide to continue. A democracy that cannot provide socio-economic justice cannot be a healthy democracy and will remain vulnerable and fragile."
He noted that the primary challenge for emerging democracies in Africa was the failure of Western democracy to acknowledge its inherent flaws and encourage a system of democracy that was dynamic, home grown and imbued with the socio-cultural backgrounds of individual African states.
Rawlings, who noted that a practicing democracy that could not create the climate to correct economic ills and corruption, could not and would not be a democracy, adding that a democracy that could protect the sanctity of its electoral process was engaging in a fraudulent electoral coup d'etat.
According to him, equally destructive is the unfortunate practice of using money to buy the conscience of the electorate.
"Democratic institutions across the continent are poorly equipped to offer the best support to governments. As a capacity building institution dedicated to provide professional research, advice, training and advocacy for members of the legislature, your organization is in a unique position to be a pacesetter in empowering our senators and parliamentarians to better serve the interests of their constituents," Rawlings said.
Speaking at the event which took place at the Transcorp Hilton Hotel, Abuja, former Interim Head of State, Chief Ernest Shonekan, stressed the need for Africa and Nigeria, in particular, to deepen democracy by ensuring that there was internal democracy in political parties.
He said:  "Religious fundamentalism is posing serious threat to democracy in parts of the continent, particularly in West Africa, North Africa and in the Horn of Africa. There is, therefore, an urgent need for  the countries concerned to constitutionally separate the state and religion and also enforce the provisions of the constitution in this regard.
"Another major challenge to democracy is corruption. Corruption debars progress and discourages foreign investors. It is encouraging that many African countries have established agencies to investigate and prosecute cases of corruption."
Subscribe for latest Videos