*Sect's ultimatum to Christians, civil servants: Leave within seven days
By Ndahi Marama, Maiduguri
Boko Haram insurgents in Borno State, dislodged by security forces in the wake of the emergency rule by President Goodluck Jonathan from their Sambisa Game Reserve camps, appear to be fighting back.
Sunday Vanguard was made to understand, yesterday, that they have not only regrouped, they have also sacked at least two major towns in the state.
One of the towns is Bama, where the insurgents struck in the weeks before Jonathan imposed the emergency rule in Borno, Yobe and Adamawa states, killing 40 policemen, 13 prison warders, three soldiers and several civilians.
The other is Gwoza.
Bama and Gwoza, located along the Sambisa offshore, are said to be the strongholds of Boko Haram, the Islamist group fighting to impose Islamic values on Nigeria, a secular state, and campaigns against Western education.
Military forces, who launched a campaign against the insurgents, including air raids by the air force, following the emergency rule imposed in Borno, had claimed that the Boko Haram members had relocated to Mandara and Gwoza hills among others desert areas of Borno State.
But tales from fleeing Bama and Gwoza residents arriving Maiduguri, the state capital, yesterday, showed that the insurgents had regrouped and launched fresh attacks on Bama and Gwoza.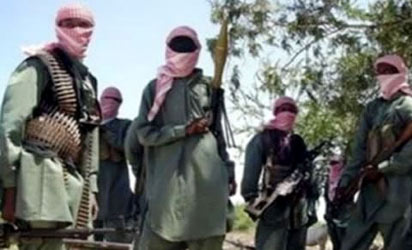 "The insurgents are moving from house to house, issuing threat letters that civil servants and Christians must leave Bama within seven days or risk their lives," one of the Bama residents who arrived Maiduguri, yesterday, told Sunday Vanguard.
'How we escaped'
Another resident, who claimed he escaped through Dikwa via Muna Road, said,  "We paid N7,000 each to be transported to Maiduguri instead of the N300 normal fare, since the Maiduguri- Bama -Gwoza  Road has been rendered impassable as it was blocked by the JTF since the emergency rule".
A civil servant, Alhaji Fannami Abba , a Bama resident who claimed to have taken all six members of his family with him to Maiduguri, said, " I paid N50,000 for the taxi cab which I hired to transport my family. Bama has become something else as the Boko Haram insurgents carry arms openly to intimidate  law-abiding citizens in the town, especially civil servants".
Abba added, "Most residents, who could afford to pay their transport out through Dikwa have left Bama while others who could not afford had to trek through the desert/bush."
Those who escaped from Gwoza said the town had been taken over by Boko Haram insurgents while villagers at the hilly areas had crossed over  to Cameroun Republic to escape the insurgents.
Mr. James John, a retired civil servant, whose brother in-law was said to have been shot dead by Boko Haram in Bama, on Thursday, told our correspondent: "When we took the body of my late in-law for burial to Gwoza, we were advised to leave town immediately after the burial to avoid any contact with the insurgents if we valued our lives.
"Gwoza has  fallen to  Boko Haram and unless there is military reinforcement in the area, I am afraid the insurgents will remain there indefinitely."  Sunday Vanguard efforts to reach the military authorities to comment on the twist in the emergency rule in Borno State, yesterday, were unsuccessful.
The youth manhunt for Islamists
Meanwhile a volunteer youth group, tagged, " Civilian JTF", assisting the men of the Joint Task Force, 'Operation Restore Order', to subdue the Boko Haram insurgency in Borno, yesterday,  embarked on "Operation Stop and Search" of vehicles in Maiduguri, a situation which led to the arrest of several sect members.
The youth, who carried cutlasses, knives and sticks, positioned  in different locations,  searching all vehicles including their engines, while the JTF personnel watched.
This came  barely five days after one Abu Zinnira, who claimed to be spokesman  for Boko Haram, said, in a statement  emailed to newsmen, that they will launch a  manhunt for the youth.
"We have established that youth in Borno and Yobe states are now against our cause.  They have connived with security operatives and are actively supporting the government of Nigeria in its war against us. We have also resolved to fight back, " Zinnira said.
However, some of the youth  promised to fight Boko Haram, saying they were  not deterred from
carrying out their mission.
One of the leaders of the youth group said, "What the Boko Haram said is an empty threat because  terror, war of attrition and killing of innocent people with impunity is over. We  have resolved to take our destiny in our hands and will continue hunting the insurgents."