By Patrick Omorodion
For three weeks now I have not been able to put my pen on paper on issues I would have loved to write about. Issues like Super Eagles near loss to Namibia in a World Cup qualifier in Windhoek and then the embarrassing refusal of the players to travel to Brazil for the Confederations Cup over protests on slashed match bonus.
I will revisit the bonus brouhaha on a later date but mention must be made of the Eagles performance at the Confederations Cup. A win and two losses and they crashed out of the competition and Nigerians are divided in their comments.
Some condemned their loss, particularly the 3-0 loss to European and world champions, Spain and I wondered what they expected from a team still in progress of becoming a power house despite the Africa Nations Cup triumph earlier in the year.
Truth must be told, Stephen Keshi must look for alternatives to Emmanuel Emenike and Victor Moses who are still nursing injuries and whose absence were hugely felt in Brazil. Brown Ideye and Ahmed Musa are unsuitable for the Eagles striking roles as they showed in Brazil.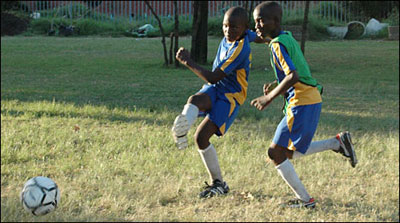 Whatever Nigerians feel about the team, they proved they are a team to be reckoned with when the real thing, the 2014 World Cup comes knocking. By then both Moses and Emenike and Ogenyi Onazi would have reunited with the rest of the squad. Nigerians should just be patient with the team and particularly Keshi who has shown that home-based players could be relied on to stand the best in the world.
While on a little break to contest an election into the Executive Committee of the National body of the Sports writers Association of Nigeria (SWAN), for which I am now the Deputy National President of the body, Vanguard sports carried a story on the AFN president, Solomon Ogba commending one Isaac Osagie and his wife Edem for their effort in scouting for young athletics talents in primary and secondary schools.
I didn't get to read the story because of the stress of election campaigns. I was however availed the opportunity to so do through an unusual avenue, the VistaWoman page of Sunday Vanguard which is usually anchored by our respected very senior colleague and Woman Editor, Helen Ovbiagele in a piece "SPORTS: Encouraging hunters of talents".
Ovbiagele hit the nail on the head when she asked "What can be done to help these coaches so that they can travel far and wide in the country in search of promising athletes? Will there be adequate funds and facilities provided by government for the training of those athletes found by both the coaches and the AFN?"
Yes, it is not enough to commend coach Osagie and his wife for their good work of scouting for talents. Chief Ogba should go a step further to ensure that the talented young athletes discovered are taken over by government with the support of the private sector for grooming for future competitions.
This is the practice in countries desirous of harnessing their potentials for national glory and Nigeria should not be different. Luckily for the AFN and Chief Ogba, the National Sports Commission, NSC has mapped out a strategy to assist federations and talented athletes and coaches through direct funding especially in sports marked out as having comparative advantage for medals in major Games.
Coach  Osagie's case should not be like that of Tobias Igwe, alias Toblow, known for his prowess in discovering young athletes at the grassroot and also grooming them to limelight but never commended nor encouraged. Sometimes Toblow is even treated with disdain by some state governments who throw him out of job for being a non indigene of those states. Yet Nigeria wants to excel at international competitions.
In case the AFN or Chief Ogba forgets coach Osagie and his wife, the grassroot development department of the NSC should take it upon itself to encourage him by mobilising him from the special fund the sports minister, Mallam Bolaji Abdullahi talked about during the inauguration of the newly constituted sports federations in Abuja last month.
This way, Osagie and his wife will be encouraged to comb the nooks and crannies of Nigeria in search of budding talents the country can groom for the 2020 Olympics because it is already too late to hope for medals in the Rio Olympics in 2016.
I say this because those who are likely to win medals, especially gold, are already almost two years into preparation. We can ask our own Daniel Igali, current president of the Wrestling federation, as it took the Canadians six years from 1994 to prepare him to win for them their first wrestling gold medal at the Sydney 2000 Olympics.