By Soni Daniel, Regional Editor, North
ABUJA — There were indications, yesterday, that members of the House of Representatives were against the proposition by the Senate for a six-year single tenure for the president and governors in their constitution amendment being fine-tuned for adoption by the National Assembly.
A senior leader of the House of Representatives told Vanguard in an exclusive interview that the members would not support the Senate to replace the two terms of four-year tenure with six-year single tenure.
The lawmaker, who is a Peoples' Democratic Party, PDP, member, made it clear that the proposal by the Senate would not serve the best interest of the nation and was capable of causing ripples in the country if not well handled.
The lawmaker said: "We, in the House of Representatives, are not going to support what the Senate has proposed because we know that such a proposal can bring about a serious problem in the polity.
"We are waiting to see how their proposal will sail through given the controversy that is already trailing it.
"We have made our position on the various issues debated upon by Nigerians, during our constituency engagement, very clear and there is no going back on them. But if the Senate insists on going ahead with a single tenure of six years for president and governors, then we can put it to vote and see who will carry the day.
"Our position remains that it is in the best interest of the nation for the provision of two terms of four years to be retained in the constitution."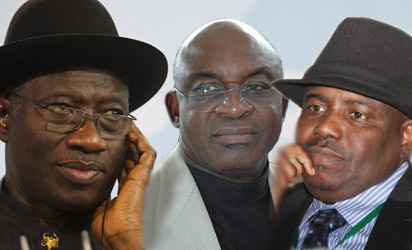 Peterside's opinion
Adding his voice to the issue, a member of the House of Representatives from Rivers State, Mr. Dakuku Peterside, said that the House of Representatives got an overwhelming endorsement from members to retain the two terms of four years and that the members were not in support of anything different from that.
Peterside pointed out that doing the opposite of what their constituents voted for, during the period of the exercise, would amount to short-changing their people and could cause them their mandate.
The lawmaker representing Opopo Federal Constituency said: "Our decision to stick to two terms of four years was arrived at after an exhaustive consultation with our respective constituencies and we cannot come back to change what they did not ask us to change.
"I can tell you without any fear of contradiction that we arrived at that decision based on our constituency engagement. Most of the opinions were in favour of two terms of four years and not six years."
Ekweremadu speaks
Deputy Senate President, Ike Ekweremadu, while presenting his report on the constitution review, maintained that if adopted, the six-year single tenure for president and governors in Nigeria, would effectively deny those aspiring for second term of their mandate.
Ekweremadu, therefore, appealed to the president and 13 governors likely to be affected by the constitutional change to make sacrifice in the interest of the nation.
The Deputy Senate President said: "For us, it would have been easy to say let's put it six years and let whoever wants, including those who are available now, let them benefit, so long as it will keep overheating the system away.
"But we don't want Nigerians to say that we have colluded with the executive to give tenure elongation to the president and certain governors. That means somebody, instead of staying for eight years, will now be staying for 10 years.
"I think it will be easier for someone to deal with the issue of making a sacrifice than for someone to have the period for 10 years. I am not sure what our colleagues will say.
"If they say that those who are there now should benefit, that is fine. Those who are currently serving should be able to excuse themselves and say we make this sacrifice on behalf of the system."
'Jonathan misunderstood'
Ekweremadu recalled that the President was one of the persons that called for a single tenure of six or seven years.
He said: "He (Jonathan) was grossly misunderstood. They were saying he wanted to get a third term. That he wanted to elongate his tenure and all kinds of things were said.
"Since we did not provide for any particular date, it means that as soon as the Constitution is passed, it starts. That is the implication.
"Unless you are suggesting that we put the time frame when it will start. But in the last amendment to the Constitution, we did not put any time frame for its take off. We also did not put in this one."
Fears, affected states
Analysts fear that if passed into law, President Goodluck Jonathan and 13 governors seeking re-election in the 2015 general elections might be technically barred from participation in the next election in 2015.
According to Ekweremadu, the law, once passed, will not require presidential assent to become effective as other legislations.
That position, it was also learnt yesterday, was already agitating the minds of litigants, who fear that the move could stop Jonathan from going for a second term and give his position to a northern candidate.
The plan could also stop the governors of Bayelsa, Nasarawa, Kwara, Osun, Ogun, Ekiti, Oyo, Zamfara, Gombe, Imo, Borno, Kaduna and Kogi states from going for a second term.