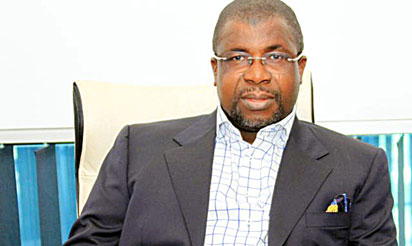 Sir Emeka Offor
As the Executive Vice Chairman of the Chrome Group, Sir Emeka Offor, as he is often addressed rarely grants interviews, rather, he prefers that his works, businesses and philanthropy to speak for him. In this interview made available to Sweetcrude, he speaks on varied issues. Excerpts:
Sir Emeka Offor, how best do we describe you?
I am simply Sir Emeka Offor, the son of a policeman, born in Kafanchan. I stand for excellence. I am a goal-getter. I set big personal goals and enjoy the challenge of achieving the extraordinary and being the best I can be. I am a firm believer in the old Christian values of hard work and dedication to duty, and am an ardent admirer of these qualities in others.
What triggered the philanthropy in you?
I have always had a desire and yearning to help people. Coming from a humble background, I know what it means to be on the other side of the divide. I have a passion to uplift people and make them independent and self-sufficient.
You are often seen as a very celebrated man. How did you come to build that image?
It is by the grace of God. One can only set goals for himself, and commit himself to realizing his vision of the future, choosing to be focused, diligent and courageous in his pursuit of excellence, trusting that with God, all things are possible. He has rewarded my efforts, and for that I am truly grateful.
Rotary International recently celebrated your philanthropy through the Sir Emeka Offor Foundation.  What is the extent of your involvement with Rotary?
I am a member of Rotary International. He is deeply involved in the 4 cardinal pursuits of the Rotary Foundation, which are; peace and Conflict Management, Maternal and Child Death, Basic Education and Literacy, and Polio and Guinea Worm Eradication. He has made an outstanding donation of 250,000 USD for Peace studies at Chulalongkorn University in Bangkok, Thailand, $250,000 for Polio eradication; $250,000 for Guinea worm eradication; and another $250,000 for Women empowerment programmes. Recently I was inducted into the Foundation Circle of the Arch Klumph Society of the Rotary Foundation of Rotary International, an honour reserved for individuals who have donated over $250,000 to its causes.  Through SEOF I have donated over $1 million, making me the highest donor from Africa.
Nigeria has been described as a suffering nation in the midst of plenty. How would you address this assertion?
Instead of asking what the government can do about the situation, I have always taken the position that there must be something in my power to do, some impact I can make, something I can contribute to help remedy the situation. I believe in the dictum, "A candle loses nothing by lighting another candle." The problem of poverty is not unique to Nigeria alone. The answer to the question of wealth creation and distribution has always been the creation of value. The course we have adopted at the Chrome Group is one of job creation.  Great visions require great investment.  It takes people to bring these visions to reality, and I am grateful to have good and competent people around me.
We also believe that the dire situation of things has, paradoxically, brought us to a unique place of opportunity as a nation. It has produced an army of young men and women eager to prove themselves. We believe that if their "hunger" and ambition can be channelled into positive, profitable enterprise, the youth of our great nation can and will deliver this great nation. To this effect, through the Sir Emeka Offor Foundation, we have embarked on various Youth Empowerment Schemes, with particular focus on skills acquisition programmes. I have unshakeable faith in the never-say-die spirit of the Nigerian.
They say that knowledge is power. This has informed our heavy investments in education. The Sir Emeka Offor Foundation is the largest single sponsor of Books For Africa, a not-for-profit organization, bringing in over $10 million worth of books, computers and other educational materials to our national institutions of learning and public libraries. Since we are of the opinion that only informed people can make informed decisions, we are not going to relent on our efforts.
We are well aware of the plight of widows in our nation. We are actively involved in empowering these women through our Widows' Cooperative Schemes. We are dissatisfied with merely doling out hand-outs to them, which can only ameliorate their conditions for a time, but seek to help them achieve a level of independence and self-sufficiency. I strongly believe that if these efforts are replicated by others, the press will be singing a different tune about Nigeria in the not-too-distant future.
Chrome Group is a multifaceted organisation. Can you give us a summary of what the Group does?
The Chrome Group from its origins as an engineering outfit handling projects such as refinery maintenance, has today become by the grace of God, a conglomerate with diverse interests in Oil and Gas, Finance/Investments, Telecommunications, Insurance, Maritime, Destination Inspection, Real Estate and the Power Sector.
Interstate Electrics recently won the bid for the Enugu DISCO of the PHCN. How did you edge out other strategic players in the industry to emerge preferred bidders?
Interstate Electrics Limited is a consortium incorporated as a vehicle for the purpose of acquiring and operating Electricity Distribution Companies in Nigeria.  It emerged the preferred bidder for the Enugu Electricity Distribution Company Plc after a rigorous bidding process in the sale of PHCN in 2012, with an Aggregate Technical, Commercial and Collection (ATC & C) loss reduction proposal of 20.83%. The Enugu Electricity Distribution Company Plc is one of the eleven electricity/marketing zones created out of the power Holding Company of Nigeria, covering the five states of the South East geo-political zone namely Abia, Anambra, Ebonyi, Enugu and Imo.
The strength of Interstate Electrics Limited derives from its local knowledge of the operating environment, and the "Third World" experience of its key partner, Metropolitan Electricity Authority (Thailand). This synergy boasts a collective global experience of over 80 years and the requisite financial resources and technical competence required to reactivate, modernize and revolutionalize the Enugu Distribution Company.
Is Interstate collaborating with foreign technical partners? Who are they and what experience are they bringing on board?
Our foreign technical partner is the Metropolitan Electricity Authority (MEA) of Thailand. Established in 1956, MEA is responsible for the distribution and sales of electricity to users in Bangkok and metropolitan vicinities. MEA's distribution area covers 3,195 square kilometres, which is divided into 14 districts with a population of about eight million and energy sales of 44,174 gigawatt hours of electricity. It is reputed to be one of the most efficient power distribution companies in the world with record technical and commercial losses of below five per cent over the past eight years.
What plans does Interstate Electrics have for Enugu DISCO going forward?
The strategic vision of Interstate Electrics Limited is to be one of the best electricity distribution companies in sub-Saharan Africa. To realize this vision, it will strive to provide cost-effective and high quality electricity distribution and retail supply services to its customers within the allotted distribution zone. We will build an electricity distribution network that employs innovative products and services together with intelligent monitoring, control and communication to help customers optimize energy use, provide customers with greater information and choice of supply; significantly reduce the environmental impact of the whole electricity supply system and deliver enhanced levels of reliability and security supply.
It will operate a financially disciplined operation through CAPEX (Capital Expenditure) investment, robust cost management and a technology-driven financial reporting system.  This will enable the Distribution Company return value to the shareholders and other various stakeholders through adequate remuneration of staff, taxes to government, investment in corporate social responsibility and dividend to shareholders. From the improvement of network processes, to the revamp, repair, redesign and optimization of the network, to network expansion in the long term, the company is poised to deliver unparalleled service to its customers.
Kaztec Engineering, a subsidiary of the Group is currently on the Snake Island complex. What are the unique designs and facilities that Nigerians should expect from them?
The design is unique in the sense that the facility when completed in September 2013 would be a one stop shop for the entire fabrication requirement for the Gulf of Guinea, considering the massive 65 Hectares of space with unlimited access to the sea, fabrication, assembly and load out capacity in the excess of 4,000 tonnes.
This means that production topsides, drilling decks and jackets, completely outfitted process modules would be fabricated in-country. The Oil industry will experience appreciable growth in qualified and certified skilled labour because of our intensive training program outlined for welders, fitters, riggers, HSE, electrical and instrumentation technicians.
What is the core mandate of Kaztec?
Kaztec Engineering Limited is fast becoming a leader in the fabrication of drilling and production platforms, as well as other specialized structures in the oil and gas industry. The company is equipped to provide turnkey onshore and offshore fabrication and installation services. Its core capabilities include engineering, procurement, construction, installation and commissioning of offshore and onshore oil and gas facilities for the oil and gas industry in West Africa.
What other projects have Kaztec been able to execute/deliver on?
The company has delivered on various projects. A breakdown includes: the procurement and installation of 24-inch Gas Transmission pipelines, spanning 107 kilometres from Calabar to Adanga, also including the installation of a metering station. After its successful completion, Kaztec carried out the rehabilitation of its Oben-Sapele Gas Transmission pipelines, along with the upgrade of its metering station. More recently, Kaztec entered into an alliance with Addax Petroleum Development (Nigeria) Limited, to successfully execute the TB 1921 project, which entailed the installation of pipelines, topsides and other subsea equipment in Oil mining Lease 123, offshore Calabar.
The Chrome Group is a major employer of labour in Nigeria; this is a direct development of the human capital infrastructure. What informed your faith in the Nigerian economy?
Our nation Nigeria is blessed with abundant human and natural resources. Our faith is first and foremost in the Nigerian people. I am fully convinced that if given the same opportunities, our local talent can compete with the best there is anywhere in the world. We as a nation are a talented and resourceful people, and once our new intakes come in and embrace the strong work ethic of the group, and imbibe our can-do mentality, there is no limit to what we can achieve.
What new projects have the Chrome Group delivered on in the last 12 months?
Adanga Redevelopment Phases I, II & III TB1921: Fabrication of Spools/Risers and Installation of Subsea Pipelines & Topsides (Fabrication and Construction) – For Addax Petroleum Development (Nigeria) Limited OML 123. This was delivered by Kaztec Engineering Ltd.
What more should we expect from the Chrome Group?
From me as the Chairman, you can expect more heroic and focused leadership through Sir Emeka Offor Foundation. Based on our commitment to education, you will begin to see the actualisation of Chrome Energy Skills Centre, which will provide vocational skills training and continuing education in the oil & gas, energy, and power sectors. From the Group's involvement in destination inspection you will begin to see a more cohesive effort in streamlining port activities.